Hey guys! Horrorella here...
Warner Bros. has released the first trailer for their upcoming fantasy/action flick SEVENTH SON. Directed by Sergey Bodrov (MONGOL: THE RISE OF GENGHIS KHAN) and based on Joseph Delaney's The Wardstone Chronicles book series, this film stars Jeff Bridges as Father Gregory, a knight/wizard tasked with saving the world from an evil witch (Julianne Moore). He is joined by young Tom Ward (Ben Barnes), his newest in a long line of short-lived apprentices.
Here is the official synopsis:
In a time long past, an evil is about to be unleashed that will reignite the war between the forces of the supernatural and humankind once more. Master Gregory (Jeff Bridges), the last of the Falcon Knights, had imprisoned the malevolently powerful witch, Mother Malkin (Julianne Moore), many years ago. But now she has escaped and is seeking vengeance. Summoning her followers of every incarnation, Mother Malkin is preparing to unleash her terrible wrath on an unsuspecting world. Only one thing stands in her way: Master Gregory. In a deadly reunion, Gregory comes face to face with the evil he always feared would someday return. He has only until the next full moon to do what usually takes years: train his new apprentice, Tom Ward (Ben Barnes) to fight a dark magic unlike any other. Man's only hope lies in the seventh son of a seventh son.
This first trailer isn't blowing my mind - it seems pretty standard for fantasy fare - but it could be fun. Fantasy is hot right now, and I am happy that many of these stories are being given a shot. And even when they don't exactly hit their mark, they usually have entertaining moments, so I would rarely call the experience a total bust. Plus, if we're being honest, Bridges is pretty much always awesome, and I am totally on board any time he wants to use his grizzled-old-man voice.
As this flick is based on a book series, if it should do well, I imagine there is plenty of room to continue the story with sequels. SEVENTH SON is due to open January 17th. What do you guys think? Interested?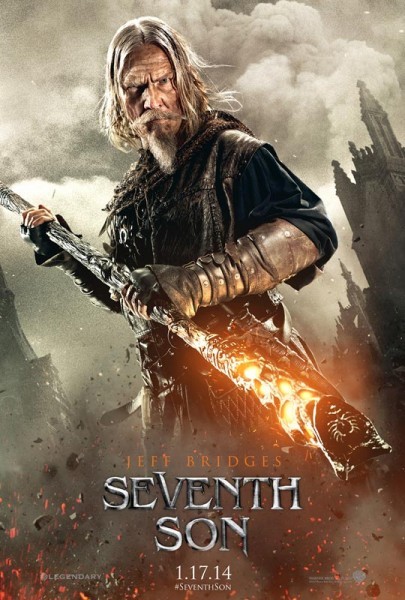 Follow me on Twitter