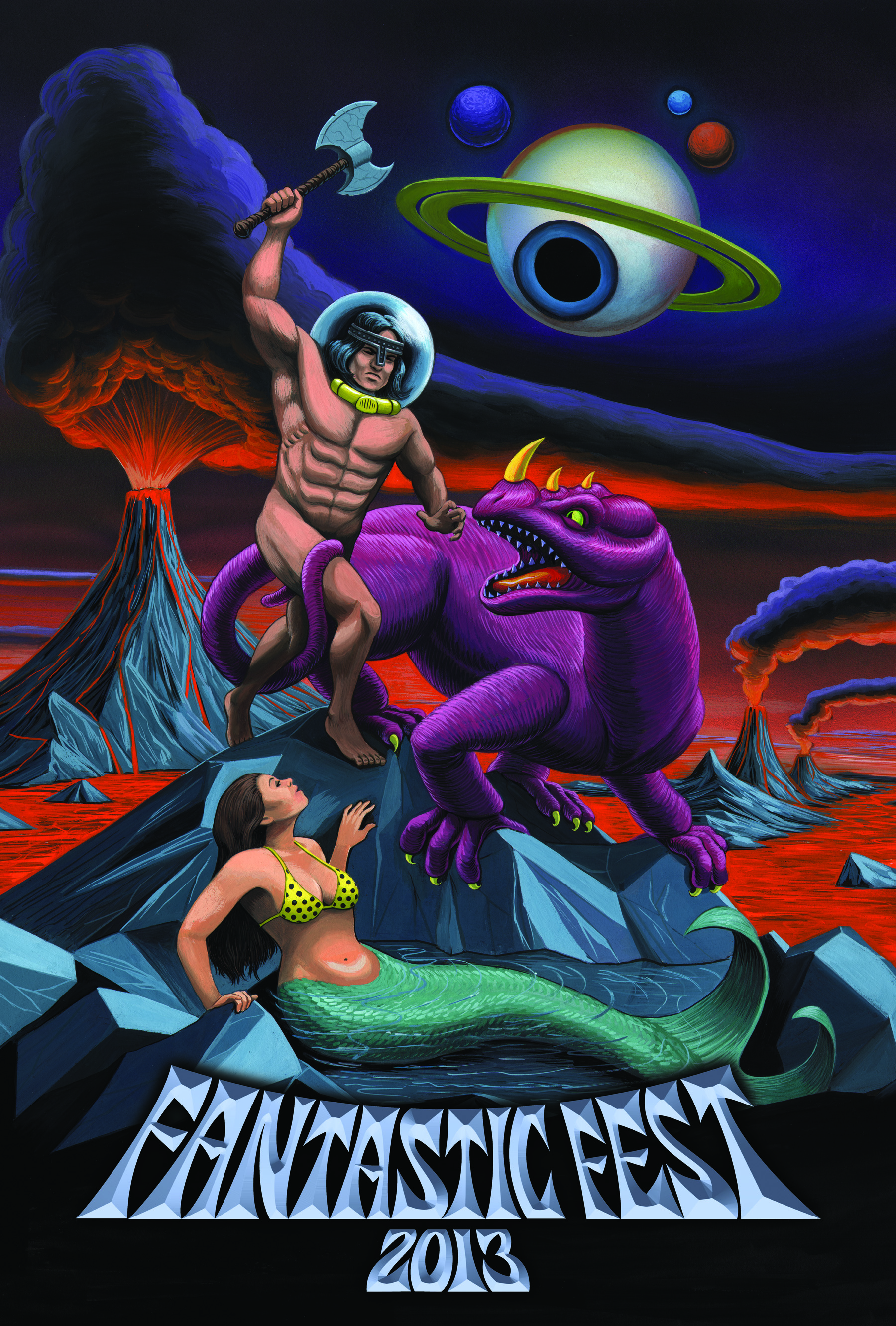 Nordling here.
Oh, how I can't wait fo Fantastic Fest. It's my favorite time of the year. I see great movies, hang out with great people, and you can't wipe the smile off my face with a tactical nuke.
This year will be something special, especially if what I suspect plays this year actually does. But considering it will be at the brand new Alamo Drafthouse venue at Lakeline, we'll all get that new theater smell, with more screens and seats, and I bet more people will be able to enjoy the special events and screenings than ever before. I have the feeling that this is the year Fantastic Fest really goes big.
They've announced their opening night film, and it's none other than hometown boy Robert Rodriguez's MACHETE KILLS. I'd be very surprised if even more members of the cast didn't appear, and I hope it's just as fun as the first one. I so can't wait. I'll be there, and hope to see you there too. Here's the press release:
****FOR IMMEDIATE RELEASE****

FANTASTIC FEST PRESENTS THE

WORLD PREMIERE OF
Cast Join The Red Carpet World Premiere

To Open The 2013 Festival

Fantastic Fest dates are September 19- September 26th in Austin, Texas

Austin, TX—Wednesday, July 10, 2013— Fantastic Fest is excited to announce Robert Rodriguez's Machete Kills will have its world premiere on September 19, 2013 as the opening night film for the 2013 festival, which will take place in Austin, Texas at the new Alamo Drafthouse Lakeline location from September 19-26, 2013. Talent from the film, including Danny Trejo, Alexa Vega and Robert Rodriguez, will be in attendance. Additional talent to be confirmed closer to festival.

"Every year we compile our dream targets for opening night film; MACHETE KILLS was at the top of that list," said Fantastic Fest Co-founder & Creative Director Tim League. "We are going to pull out all the stops to ensure Robert's world premiere red carpet experience is literally blood red."

"Fantastic Fest has quickly become the best place for fans to first experience the newest and coolest genre movies and blockbusters," said director Robert Rodriguez. "I am honored and extremely excited for Machete Kills to have its world premiere right here in Austin and kick off Fantastic Fest."

In Machete Kills, Danny Trejo returns as ex-Federale agent Machete, who is recruited by the President of the United States for a mission which would be impossible for any mortal man - he must take down a madman revolutionary and an eccentric billionaire arms dealer who has hatched a plan to spread war and anarchy across the planet.

The talented and eclectic cast includes: Danny Trejo, Michelle Rodriguez, Sofia Vergara, Amber Heard, Carlos Estevez, Lady Gaga, Antonio Banderas, Jessica Alba, Demian Bichir, Alexa Vega, Vanessa Hudgens, Cuba Gooding, Jr., William Sadler, Marko Zaror and Mel Gibson.

Presented by Open Road Films, Machete Kills is directed by Robert Rodriguez, produced by Robert Rodriguez, Aaron Kaufman, Iliana Nikolic, Sergei Bespalov, Alexander Rodnyansky and Rick Schwartz, from a screenplay by Kyle Ward, based on a story by Marcel Rodriguez and Robert Rodriguez. Machete Kills releases in U.S. theaters on October 4, 2013.

For further information on Machete Kills visit https://twitter.com/MacheteKills and https://www.facebook.com/MacheteKills

Download a MACHETE KILLS Still Here:

https://www.yousendit.com/download/WFJVeUNNckllcExtcXRVag

Danny Trejo as Machete and Michelle Rodriguez as She in MACHETE KILLS, directed by Robert Rodriguez, in theaters October 4, 2013. Photo by – Rico Torres

Look for more programming announcements for Fantastic Fest in the weeks ahead.
That poster's gorgeous, by the way. See you in September.
Nordling, out.