Hey guys! Horrorella here...
Disney just isn't stopping. We learned earlier today that Stellan Skarsgard is in talks for a role in their upcoming CINDERELLA flick, and now we are hearing from THR that they are planning to make a live-action version of The Jungle Book.
Rudyard Kipling's The Jungle Book was first published in 1984, and it has found itself on the big screen multiple times - in fact, this will be the third adaptation from Disney alone (and that's not even including the sequel from 2003 or the TV stuff, like TaleSpin). In addition to their 1967 animated classic, they also pushed out a live-action version in 1994. I don't remember much about that one, other than that even as a kid, I was unimpressed. The newest incarnation will be written by Justin Marks, who had previously worked with Disney on a draft of 20,000 LEAGUES UNDER THE SEA.
But wait - there's more! Because the property is in the public domain, this isn't the only version of The Jungle Book you're likely to see in the coming years - Warner Bros. already has their own movie in the works, which is being written Steve Kloves (the writer on several of the HARRY POTTER films).
So that's the news. Disney is firmly on the road to converting all of their animated films into live-action, and in a couple of years, we will get to watch two Jungle Books flicks duke it out in theaters all across America.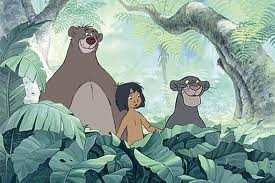 Follow me on Twitter