Hey guys! Horrorella here...
Stellan Skarsgård may be the latest actor to jump on board the live-action CINDERELLA project that Kenneth Branagh is putting together for Disney.
According to THR, Skarsgård is currently in talks to play the role of the Grand Duke, the chief advisor to the King. There is no word as to the nature of this role, but if fairy tales have taught me anything, it's that you never trust the dude whispering into the King's ear.
Skarsgård would be joining and already strong cast, including GAME OF THRONES star Richard Madden as Prince Charming, Cate Blanchette as the wicked stepmother, Helena Bonham Carter as the Fairy Godmother, and Lily James in the titular role of Cinderella.
The film is being scripted by Aline Brosh McKenna (THE DEVIL WEARS PRADA and the upcoming ANNIE) and Chris Weitz (ABOUT A BOY, THE GOLDEN COMPASS), and is slated to be released in 2015.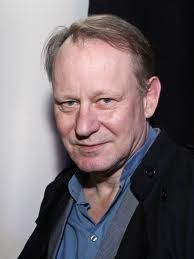 Follow me on Twitter