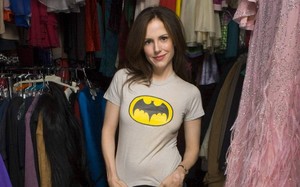 Mary Louise Parker has two acronym action movies opening July 19 – "RIPD" and "RED 2" -- so we're going to be seeing her on "Kimmel," "Conan" and "Live With Kelly and Michael" this week. And maybe more next week.
Premiering tonight:

Dangerman (10pm BBCA)

Get Out Alive (9pm NBC)

God, Guns & Automobiles (10pm History)
Hollywood Exes (10pm VH1)

Kentucky Bidders (10:30pm Tru)

Lizard Lick Towing (10pm Tru)

Top Gear (8:30pm BBCA)
The second episode of "Under The Dome" crushed both "Siberia" and "Mistresses" at 10 p.m. last Wednesday.
Mondays, May 27-July 1, 2013
(Adults 18-49; repeats in gray; older weeks in parentheses)
2.9 (3.3) (---) (---) (---) (---) Under The Dome
1.8 (2.0) (1.7) (1.8) (1.7) (1.9) Bachelorette
1.7 (---) (---) (---) (---) (---) American Ninja Warrior
1.7 (1.7) (1.8) (1.6) (1.5) (1.4) Love And Hip Hop
1.6 (2.0) (---) (---) (---) (---) Big Bang Theory
1.3 (1.3) (1.5) (1.4) (1.3) (1.4) WWE Entertainment
1.2 (1.2) (0.9) (1.0) (0.8) (0.9) How I Met Your Mother
1.2 (1.3) (1.0) (1.2) (1.0) (1.1) 2 Broke Girls
1.1 (1.0) (1.1) (0.9) (---) (---) Fast N Loud
1.1 (1.2) (1.1) (1.0) (0.8) (0.8) Hit The Floor
1.1 (---) (1.0) (1.1) (1.0) (1.3) Mike & Molly
1.1 (1.1) (1.2) (1.4) (1.2) (---) Mistresses
1.1 (---) (---) (---) (---) (---) Siberia
1.0 (0.7) (0.9) (0.8) (0.9) (0.8) Real Housewives OC
0.8 (0.8) (0.7) (0.9) (0.7) (---) Major Crimes
0.8 (0.8) (0.6) (0.7) (0.8) (0.7) Raising Hope
0.8 (0.7) (0.7) (0.7) (---) (---) Street Outlaws
0.7 (0.6) (---) (0.6) (0.6) (---) The Fosters
0.7 (0.8) (0.7) (0.7) (0.8) (0.9) Longmire
0.7 (0.7) (0.7) (0.7) (---) (---) Switched At Birth
0.7 (0.9) (0.7) (1.0) (1.0) (---) Teen Wolf
0.6 (0.5) (0.5) (0.6) (0.6) (---) Defiance
0.6 (0.7) (0.5) (0.5) (0.6) (0.7) The Glades
0.6 (0.6) (0.5) (0.6) (0.7) (0.6) Goodwin Games
0.5 (---) (---) (---) (---) (---) Below Deck
0.5 (0.5) (0.4) (---) (---) (---) Black Box
0.5 (0.4) (---) (0.3) (0.4) (---) Cake Boss
0.5 (0.4) (0.4) (---) (0.4) (0.6) Diners, Drive-Ins
0.5 (0.5) (0.4) (0.5) (0.4) (0.5) House Hunters Intl
0.5 (0.4) (0.4) (0.6) (---) (---) King & Maxwell
0.5 (---) (---) (---) (---) (0.6) Mindy Project
0.5 (0.6) (0.5) (0.6) (0.6) (0.6) New Girl
0.5 (0.4) (0.4) (0.5) (0.3) (---) Warehouse 13
0.4 (0.6) (0.5) (0.6) (0.4) (0.6) House Hunters
0.4 (0.4) (0.4) (0.4) (0.4) (---) Love It Or List It
0.3 (0.3) (0.3) (0.4) (0.2) (---) Oh Sit!
0.2 (0.1) (0.1) (0.2) (0.1) (---) Carrie Diaries