Spoilers for tonight's and Tuesday's "Big Brother" episodes lurk in the text invisible.
* Two hot Texans -- unemployed behemoth Jeremy McGuire and blonde co-ed Aaryn Gries – won the barbeque-sauce spooning HoH competition, with Aaryn ultimately assuming the HoH role for the week.
* Aaryn nominated the house's two moms: BBMVP Elissa Slater (who gets to make her own, third nomination) and Chicago political consultant Helen Kim.
* Viewers elected Elissa MVP, and Elissa used that power to nominate Jeremy.
* But Jeremy subsequently won Power of Veto, which he'll presumably use to pull himself off the block.
I say Elissa richly deserves to be booted from the house for turning the huge advantage of the MVP nominating power into a massive personal liability. All she had to do was keep her super-status secret. I'll be astonished if she's still in the house five days from now.

Cartoon Network says of tonight's "Momma's Boys":
Rusty doesn't do much swimming in the honey river, if you catch our drift.
An hour of "Avengers Assemble" hit Disney XD on May 26, but the series launches in earnest 11 a.m. Sunday.
Premiering tonight:

Bar Rescue (9pm Spike)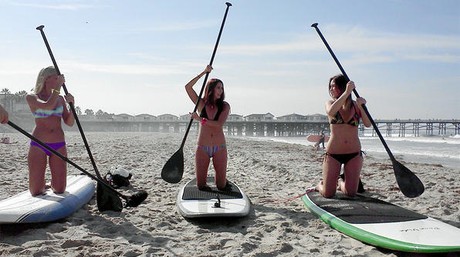 Bikinis & Boardwalks (7pm Travel)

Endeavour (9pm PBS)

Food Court Wars (10pm Food)
BET and its awards show ruled last Sunday.
"Dexter" performed strongly with its final season premiere, but Showtime series generally still don't attract the audiences that HBO's "True Blood" and "Game of Thrones" do.
"Devious Maids," the latest Sunday-night series series from "Desperate Housewives" mastermind Marc Cherry, slipped to a 0.6, behind "Food Network Star," "Breaking Amish," "Naked and Afraid" and, of course, TBS repeats of "The Big Bang Theory."
Sundays May 26-June 30, 2013
(Adults 18-49; repeats in gray; older weeks in parentheses)
3.4 (---) (---) (---) (---) (---) BET Awards
--- (---) (---) (2.9) (2.8) (---) Game Of Thrones
2.2 (2.2) (2.4) (---) (---) (---) True Blood
1.9 (---) (---) (---) (---) (---) Big Brother
1.5 (1.5) (1.2) (1.3) (1.8) (---) Family Guy
1.3 (1.1) (0.7) (0.8) (0.9) (---) American Dad
1.2 (---) (---) (---) (---) (---) Dexter
1.1 (1.1) (1.0) (1.5) (---) (---) Falling Skies
1.1 (1.1) (1.1) (1.2) (1.6) (---) Keeping/Kardashians
1.0 (1.3) (---) (---) (---) (---) Celeb Wife Swap
1.0 (1.1) (0.9) (1.1) (1.3) (---) Real Housewives NJ
1.0 (---) (---) (---) (---) (---) Soccer
1.0 (1.3) (1.2) (---) (---) (---) Sprint Cup
1.0 (1.3) (---) (---) (---) (---) Whodunnit?
0.9 (1.0) (---) (---) (1.0) (0.6) AFH Videos
0.9 (1.2) (0.9) (0.9) (1.3) (---) Bob's Burgers
0.9 (0.8) (---) (---) (---) (---) Mountain Men
0.8 (0.9) (0.7) (0.7) (1.0) (0.6) Breaking Amish
0.8 (0.7) (0.8) (0.7) (0.8) (---) Food Network Star
0.8 (1.0) (0.9) (1.2) (1.1) (0.6) 60 Minutes
0.7 (0.6) (0.5) (0.7) (---) (---) Ice Road Truckers
0.7 (0.6) (0.5) (---) (0.7) (0.6) The Mentalist
0.7 (1.6) (---) (---) (---) (---) Naked And Afraid
0.7 (1.2) (1.1) (1.0) (1.5) (---) The Simpsons
0.7 (---) (---) (0.7) (---) (---) Venture Bros.
0.6 (0.6) (0.6) (0.7) (0.7) (---) Cleveland Show
0.6 (0.7) (---) (---) (---) (---) Crossing Lines
0.6 (0.7) (---) (---) (---) (---) Devious Maids
0.6 (0.7) (---) (---) (---) (---) Drop Dead Diva
0.6 (0.5) (0.5) (0.6) (0.7) (0.7) Long Island Medium
0.5 (---) (---) (---) (0.7) (---) Iron Chef
0.5 (---) (---) (---) (---) (---) Ray Donovan
0.4 (0.5) (---) (---) (---) (---) HGTV Star
0.4 (---) (---) (---) (---) (---) House Hunters
0.4 (0.6) (0.4) (0.4) (0.4) (---) The Killing
0.3 (0.3) (---) (---) (0.7) (---) Call of the Wildman