Howdy do, everyone, Papa Vinyard here.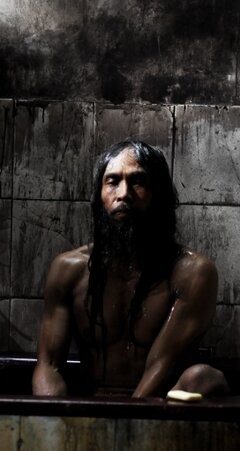 We've all known that Iko Uwais is reprising his role as Rama in the upcoming sequel to THE RAID: REDEMPTION, subtitled BERANDAL. This morning, director Gareth Evans tweeted a pic that reveals Prakoso, a new character played by Uwais co-choreographer Yahan Ruhian. Ruhian played the memorable Mad Dog in the first film who, as you may recall, was a cocky, but expert fighter whose own hubris ends up being his downfall. Evans went on to assure fans that Prakoso is not some long-lost twin or any cop-out bullshit like that, but will be a completely new character; in fact, he describes him as "probably the most sympathetic character in the film." He was a badass, intimidating presence in his original baddie role, but I'm excited to see him doing a distinctly different character (Evans also mentioned that Ruhian "has reached that point now where acting is as natural to him as Silat."), as well as getting another chance for him to show off those killer, vicious moves that posed such a threat to our hero in the original.
THE RAID 2: BERANDAL is currently shooting in Indonesia. Should see it here sometime next year.
-Vincent Zahedi
"Papa Vinyard"
vincentzahedi@gmail.com
Follow Me On Twitter