Howdy do, everyone, Papa Vinyard here.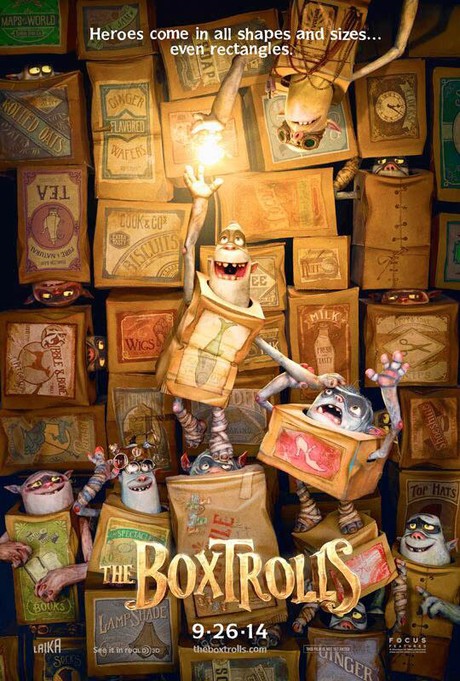 Talk about good timing. Less than a week after the DOMA ruling that banning gay marriage is unconstitutional, we have a trailer for the new stop-motion film by Laika (CORALINE, PARANORMAN) that highlights the idea of "unconventional families". It uses that entry point to segue into its introduction of the titular box-dwelling trolls who see fit to adopt a young boy into their midst. We don't see much of the visual style of the film; one imagines that this single-take scene was created simply for advertising purposes, or, at most, is merely the introduction of the film. The trolls look like they have vaguely GREMLINS-esque potential, but their physical appearance is mostly boxed out by their *ahem* boxes. Either way, I'm digging the humor thus far, and Laika has a good track record of surpassing my expectations with their finished films, so if they can keep up their intuitive advertising strategy, this could very well be a solid Fall hit with the youngsters.
The film, based on a 2005 book called Here Be Monsters!, has an impressive, mostly-British voice cast, including Ben Kingsley, Elle Fanning, Toni Collette, Jared Harris, Richard Ayoade, Tracy Morgan, Simon Pegg, and Nick Frost (one hopes the latter two are paired off again; I thought they were fairly killer in TINTIN, and I hear they do fun live-action stuff too). Bran Stark himself, Isaac Hempstead-Wright, will voice the lead role of Eggs. I'm into it.
Embed thanks go to The Hollywood Gossip after Universal shut down some links on Youtube.
THE BOXTROLLS will roam on September 26th.
-Vincent Zahedi
"Papa Vinyard"
vincentzahedi@gmail.com
Follow Me On Twitter