Howdy do, everyone, Papa Vinyard here.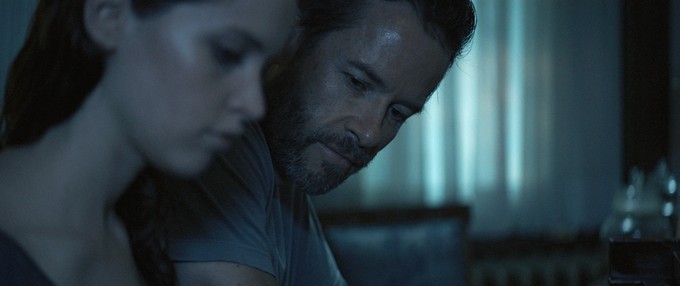 We have the first trailer for the new movie by Drake Doremus (LIKE CRAZY), and it's a solid ad for the movie, if somewhat unrepresentative of the actual film. I was lucky enough to see BREATHE IN, which stars Guy Pearce, Felicity Jones, Amy Ryan, an excellent newcomer named Mackenzie Davis, and Kyle MacLachlan in a cameo, at this past Sundance, and it tied up with BEFORE MIDNIGHT as my favorite movie(s) of the festival. The trailer kind of plays up this sense of heightened suspense, and intense drama, but the film is nothing like that. Doremus creates a sense of humdrum normality where the life of an almost-was music teacher is just waiting to get rocked by an injection of the unfamiliar. It is that very sense of boring everyday life that makes the connection between Pearce and Jones' characters amazingly potent. The trailer almost makes it seem like some lurid, LOLITA-esque affair, which is completely off, but it does get across the fragility of their physical contact (the touching of the hands, etc.) and how powerful the impact is to both characters. There is a scene where Pearce's music teacher becomes aware of Jones' talent at the piano (not seen in the trailer) that is one of the most openly emotional beats in recent memory, even though to the untrained eye, it would be easy to think that nothing significant is even happening. You really do empathize with both characters, and their connection is so visible, that you really do hope they figure out some way to make their thing, whatever it is, work. The film has a tragic, deeply nuanced performance by Pearce, and the 30 year-old Jones makes a huge impression while playing someone at least 12 years her junior. I highly recommend catching this one when it rolls out.
BREATHE IN will be released on VOD and theatrically on July 19th.
-Vincent Zahedi
"Papa Vinyard"
vincentzahedi@gmail.com
Follow Me On Twitter