CAPTAIN PLANET - the freaky 1990s cartoon famously lampooned by Don Cheadle a few years back...
- may be making its way to the big screen.
Captain Planet told the story of five teens from around the world -- North America, Africa, Eastern Europe, Asia and South America (if this isn't tailored for today's international marketplace, I don't know what is) -- that are given powers by Gaia, the earth spirit, in order to protect the planet from the devastation of polluters.
...says THIS piece over at HeatVision, which goes on to reveal that Don Murphy (TRANSFORMERS, REAL STEEL), Mark Gordon (SPEED, 2012, THE DAY AFTER TOMORROW, TV's CRIMINAL MINDS) and Susan Montford (SPLICE, REAL STEEL) are producing.
I'm all for environmental awareness and erring on the side of caution environmentally. I truly, truly am. I feel lack of caution or sensitivity to the environment may well lead to tragic and unspeakable mistakes we will not have chances to undo as a species...and could threaten us as a species.
This said, I don't know how this concept can possibly work. If the character/mythology is taken seriously, it's going to feel...awkward...like those funky and disengenuine religious superheroes we sometimes run across. You know, the ones who feel like posers...and just seem too self-aware and restrained to be 'cool'? But if Captain Planet and his posse turn into ass kicking, take-no-prisoners, save nature extremists, then the picture will be accused of being irresponsible and incendiary left-wing propaganda. And anything in the middle...seems destined for 'meh.' Am I overthinking this? What do you think?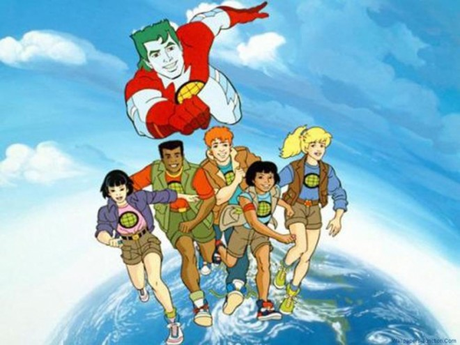 -------------------
Glen Oliver
"Merrick"
- e-mail
- Twitter
- Google +