Howdy do, everyone, Papa Vinyard here.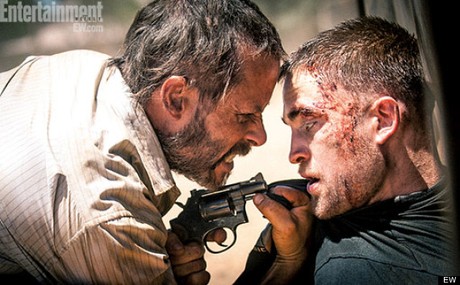 A24 put out news today that they are acquiring the latest from ANIMAL KINGDOM director David Michod, entitled THE ROVER, for U.S. theatrical distribution. The Australian production was, interestingly enough, conceived by Michod and actor Joel Edgerton, who doesn't seem to actually have a role in the finished film. I guess they became tight while shooting Edgarton's smallish role in KINGDOM. The film is a post-apocalyptic drama starring Guy Pearce, Robert Pattinson, and Scoot McNairy, and it sounds a little bit like a buddy-movie version of MAD MAX.
Via the press release: THE ROVER is set in a world ten years following the collapse of the western economic system, where Australia's mineral resources have drawn the desperados and dangerous to its shores. With society in decline, the rule of law has disintegrated and life is cheap. The film follows hardened loner Eric (Pearce), who travels the desolate towns and roads of the Australian outback. When a gang of thieves steals his car they leave behind the wounded Rey (Pattinson) in their wake. Forcing Rey to help track the gang, Eric will go to any lengths to take back the one thing that matters to him.
Pearce has done the post-apocalyptic thing (briefly in THE ROAD), the Australian outback bit (the amazing THE PROPOSITION), and the Mad Max-like anti-hero (LOCKOUT) before, as well as working with Michod on ANIMAL KINGDOM. I have no doubt he has the chops to hold this one down. McNairy is a badass, eclectic actor who rocked two excellent performances last year in ARGO and KILLING THEM SOFTLY after breaking out in Gareth Edwards' MONSTERS. As for Pattinson, well, I think he has potential, but his milquetoast leads in TWILIGHT and COSMOPOLIS have done little to demonstrate said potential. Working this closely with the consistently-terrific Pearce will either bring out the better actor in him, or will make him seem even more like a mere pretty face than he already does.
I adored ANIMAL KINGDOM, from top-to-bottom, stern-to-stem (if you haven't seen it, be sure to check it out), and this cast and premise have a shit-ton of potential. I'm hoping Michod has the ability to make this more like THE PROPOSITION and less like BOOK OF ELI, or worse, LOCKOUT. From the pic above, at least, it certainly seems gritty. Good sign.
-Vincent Zahedi
"Papa Vinyard"
vincentzahedi@gmail.com
Follow Me On Twitter