Howdy do, everyone, Papa Vinyard here.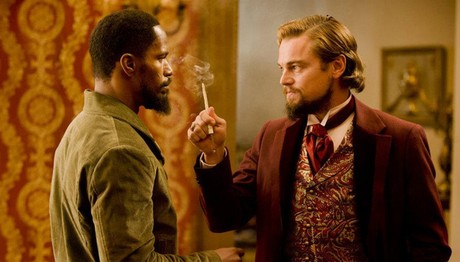 Well, it didn't take long to reunite Django and Candie! According to Deadline, Warner Bros. has made its first move since getting rid of Jeff Robinov and making Greg Silverman the new head of worldwide distribution, and it was to pick up the package of an adaptation of the upcoming novel Mean Business On North Ganson Street, which has Leonardo DiCaprio and Jamie Foxx attached. The book concerns a disgraced cop, to be played by Leo, who is exiled from the big city to a small town in Missouri. This ain't no cushy, THE LAST STAND-type retirement deal, however; in this burg, cops are dying left and right, and DiCaprio and his new partner think it might be the work of a local (Foxx) who the partner got in hot water for beating the snot out of. Seems like it has the potential for a strong, southern-fried cop drama. DiCaprio and Foxx can be electrifying when given the opportunity, so lets hope they are able to get those magic DJANGO juices flowing again, and can approach the effortless charm and intensity they both conjured up for that last collaboration.
The book was written by S. Craig Zahler, who will also write the screenplay. He also wrote and directed the upcoming Kurt Russell flick BONE TAMAHAWK, and had a script on the 2007 Black List that's being directed by Chan-Wook Park, so its looking like the dude's got some approval from within the industry, even if his mettle hasn't really been tested yet. Add to that the DJANGO UNCHAINED combo of DiCaprio and Foxx, this time on opposite sides of the protagonist-antagonist equation, and this is looking like a fairly self-explanatory pickup for WB. Now let's see who they get to direct.
And how they change that clunky-ass title.
-Vincent Zahedi
"Papa Vinyard"
vincentzahedi@gmail.com
Follow Me On Twitter