Beaks here...
By the time August 23rd rolls around, moviegoers will be suffering from blockbuster malaise. As a result, they'll be in the mood for something that wasn't cobbled together by committee. Something offbeat. Something original.
Though YOU'RE NEXT may seem familiar, it's more than just another home invasion movie. Basically, it's a home invasion movie that knows you've seen a lot of home invasion movies (and horror movies in general), and proceeds to upend your expectations every step of the way. Director Adam Wingard and screenwriter Simon Barrett have crafted a savagely entertaining film, one that's been working over festival audiences for almost two years now. You've probably read a number of rave reviews on this very site. Well, now it's time to see it for yourself.
To help get you worked up for this sucker, Lionsgate has released a trio of .gifs that reveal a portion of the brand new poster. Below is AICN's chunk of the poster (the other two are at FEARnet and Cinemablend), which will be followed up at Noon PT by the full poster. There will also be a full version with a .gif at the film's official Tumblr (where you can listen to The Dwight Twilley Band's "Looking for the Magic", which is basically the movie's theme song).
So there you go! A little bit of hype for an awesome movie headed your way this August 23rd. We'll have much more on this one as the opening date draws closer.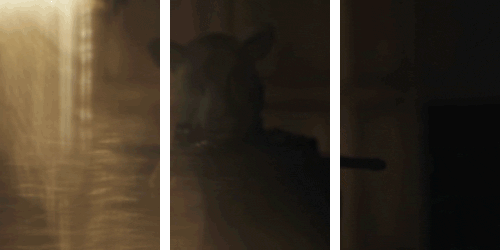 And here's the new poster!