CBS is launching its big summer hit "Big Brother" two weeks earlier than usual tonight with a record 16 contestants. None of the contestants is older than 37 this year, and one of them is the sister of "Big Brother 13" champ Rachel Reilly.
Word is contestants will be nominated three at a time this year and the home audience will have some say in those nominations. So that's different.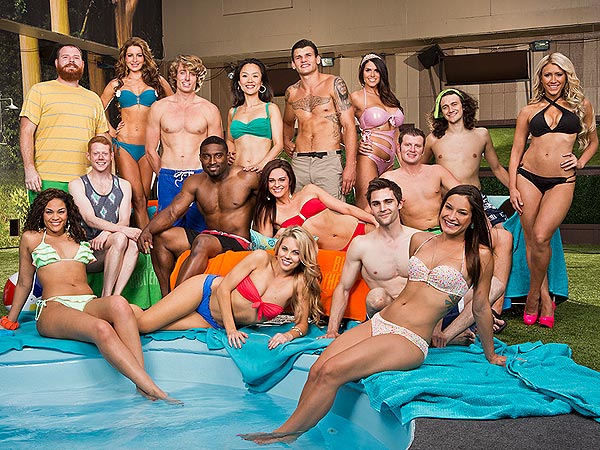 The schedule this summer:
8pm Wednesdays
8pm Sundays
9pm Tuesdays
Oh, and don't forget the nightly "Big Brother After Dark" has migrated from Showtime 2 to the TV Guide Channel.
"Royal Pains" and the cancelled "Futurama" were the two top cable shows last Wednesday.
Wednesdays, April 24-June 19, 2013
(adults 18-49; older weeks in parentheses; repeats in gray)
2.4 (2.5) (1.2) (1.4) (0.5) (0.7) (---) (---) (---) NHL Hockey
2.2 (2.4) (2.4) (2.3) (2.2) (---) (---) (---) (---) MasterChef
1.2 (1.2) (1.1) (1.0) (---) (---) (---) (---) (---) American Baking
1.2 (1.2) (1.4) (1.4) (3.7) (3.7) (3.3) (3.6) (1.8) Modern Family
1.1 (1.4) (1.3) (1.2) (---) (2.0) (2.2) (1.9) (1.5) CSI
1.1 (1.1) (1.1) (1.1) (---) (---) (---) (---) (---) The Lookout
1.0 (1.2) (1.1) (0.9) (2.8) (2.6) (2.5) (2.4) (1.4) Criminal Minds
1.0 (1.2) (1.3) (1.4) (2.1) (2.0) (2.0) (2.1) (1.5) How/Parents
0.9 (0.9) (0.9) (1.0) (---) (1.2) (1.2) (1.5) (---) Family Tools
0.9 (1.0) (1.0) (1.0) (2.0) (1.9) (1.8) (2.0) (1.2) The Middle
0.8 (---) (---) (---) (---) (---) (---) (---) (---) Futurama
0.8 (0.7) (---) (---) (---) (---) (---) (---) (---) Royal Pains
0.7 (0.6) (---) (---) (---) (---) (---) (---) (---) Necessary Roughness
0.6 (0.5) (0.5) (0.5) (0.6) (0.6) (0.6) (0.8) (0.7) The Daily Show
0.6 (---) (---) (---) (---) (---) (---) (---) (---) Franklin & Bash
0.6 (0.5) (0.6) (0.4) (0.6) (0.5) (---) (---) (---) South Beach Tow
0.5 (---) (---) (---) (---) (---) (---) (---) (---) Baby Daddy
0.5 (0.4) (---) (---) (---) (---) (---) (---) (---) Ghost Hunters
0.5 (---) (---) (---) (---) (---) (---) (---) (---) Hot In Cleveland
0.5 (0.5) (---) (0.5) (---) (---) (---) (---) (---) Melissa & Joey
0.5 (0.5) (0.4) (0.5) (0.3) (0.3) (0.3) (---) (---) Million $ Listing
0.5 (0.5) (0.5) (0.5) (0.5) (0.6) (0.5) (---) (---) Mythbusters
0.5 (0.5) (0.4) (0.5) (0.5) (0.4) (0.3) (---) (---) Only In America
0.5 (0.4) (0.5) (0.4) (0.5) (0.6) (---) (---) (---) Operation Repo
0.5 (---) (---) (---) (---) (---) (---) (---) (---) Toddlers & Tiaras
0.5 (0.5) (0.5) (0.4) (---) (---) (---) (---) (---) Top Shot
0.4 (0.3) (0.4) (0.4) (---) (0.9) (0.9) (0.9) (1.0) Arrow
0.4 (0.4) (0.4) (---) (0.5) (0.5) (0.5) (0.6) (0.6) Colbert Report
0.4 (0.5) (0.5) (0.4) (0.4) (0.5) (0.5) (0.5) (0.5) Conan
0.4 (---) (---) (---) (---) (---) (---) (---) (---) The Exes
0.4 (0.4) (0.4) (---) (---) (---) (---) (---) (---) Paranormal Witness
0.4 (0.4) (0.4) (0.4) (0.3) (0.3) (0.4) (0.4) (0.5) Restaurant Stakeout
0.4 (0.3) (0.4) (---) (---) (---) (---) (---) (---) The Soup
0.4 (0.4) (0.3) (0.4) (---) (1.0) (1.0) (0.9) (1.0) Supernatural
0.3 (0.6) (0.5) (0.4) (0.4) (0.4) (0.4) (0.5) (0.4) House Hunters
0.3 (0.4) (0.4) (0.6) (---) (---) (---) (---) (---) Love Thy Neighbor