Howdy do, everyone, Papa Vinyard here.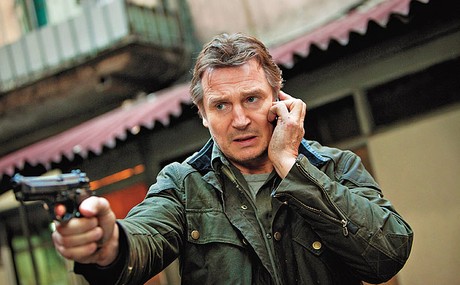 We have word from Deadline that EuropaCorp has struck a deal with Liam Neeson in the realm of $20 million (remember when people attributed CABLE GUY's failure to that Carrey paycheck in the same exact amount?) to get him onboard for another go-around as bearer-of-a-particular-set-of-skills Bryan Mills in TAKEN 3. Deadline notes that he didn't even want to do TAKEN 2 until they paid him $15 million for that one (a third of the film's budget, by the way), which paid off when the flick hit almost $400 mil worldwide. No word on what the story of this entry will be; after the first one had evil Albanians TAKE his daughter and then having them TAKE Mills, himself, in retaliation, who is there left to TAKE? Xander Berkeley? Leland Orser? The French cop? Maybe his dog?
I think we can all agree that the last one was totally perfunctory, with its lackluster script more than justifying Neeson requesting that much money (and now 5 milly more) to appear. It had its moments, but when compared to the bone-breaking immediacy of the first TAKEN (which, unlike its sequel, was directed by DISTRICT B13 director Pierre Morel), it was just as mediocre and forgettable as the TAKEN-wannabe UNKNOWN (maybe moreso; nothing in TAKEN 2 matches that film's super-memorable scene with Frank Langella and Bruno Ganz). It's kind of distressing how sure Fleming is that TAKEN 2's director, Olivier Megaton, will retain the reins for this threequel. After botching up his entries in both the TAKEN and TRANSPORTER franchises (at least quality-wise), one would hope that they'd either go back to the well and rehire Morel or start anew with someone fresh.
Why can't they just get writer-producer Luc Besson to direct one of these things himself?! This is easily his most lucrative franchise, plus his participation could potentially elevate this film from being just another cash grab for Neeson & Co., and could give his stagnant U.S. directing career a nice kick in the ass (provided his upcoming THE FAMILY hasn't already done that).
No word on the rest of the cast, even though they're trying to lock down Maggie Grace and Famke Janssen. Still holding out for a Bruce Willy/Liam Neesons team-up. Take note, Besson…
Liam Neesons & Bruce Willy from Peter Atencio on Vimeo.
-Vincent Zahedi
"Papa Vinyard"
vincentzahedi@gmail.com
Follow Me On Twitter