Howdy do, everyone, Papa Vinyard here.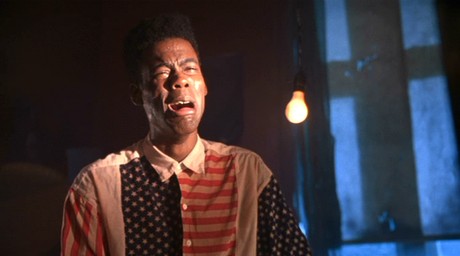 Via Deadline, we have word that Chris Rock has added some strong comedy players to his newest project as a writer-director, tentatively titled FINALLY FAMOUS. J.B. Smoove, Kevin Hart, and Sherri Shepherd are joining Gabrielle Union, Rosario Dawson, and Rock himself in the upcoming movie, which has Rock playing a comedian who agrees to marry his reality-TV star girlfriend live on her show. It's a little more dramatic than we're used to seeing the massively famous jokester, due to the fact that his character is an alcoholic who is in a codependent relationship with his apparently manipulative fiancee, played by Union, whom he credits with his sobriety. Dawson will play another love interest for Rock, Smoove will play a bodyguard figure, Shepherd plays an ex-girlfriend of Rock's, and Hart will cameo as his money-hungry agent (is there any other kind?)
Smoove is best known for his hilarious work on HBO's CURB YOUR ENTHUSIASM, as well as supporting roles in movies like DATE NIGHT, MOVIE 43 and Rock's own POOTIE TANG. Hart is having a great summer, after appearing in THIS IS THE END and following that up with his own wide-released theatrical stand-up film (the first since maybe THE BLUE COLLAR COMEDY TOUR), KEVIN HART: LET ME EXPLAIN. Both comedians are energetic and consistently funny (particularly Smoove), and should add some flavor to the New York-set comedy. Sherri Shepherd is slightly more of a wildcard; her most prominent role has been as a cohost on THE VIEW for the past 8 years, but she's also made a name for herself as an actress/comedienne in movies like THINK LIKE A MAN, PRECIOUS: BASED ON THE NOVEL "PUSH" BY SAPPHIRE, and a strong stint as Tracy Jordan's wife, Angie, on 30 ROCK.
The cast and the premise are looking solid. Certainly more I THINK I LOVE MY WIFE than HEAD OF STATE; hopefully this will be better than both. I like the idea of Dawson and Rock having romantic sparks, and Smoove and Hart should be great comic backup. I totally dig that Rock's shooting in his native New York. And if anyone has any doubts about his dramatic abilities, I highly recommend you seek out his work in NEW JACK CITY, which he almost completely steals away from stars Wesley Snipes and Ice-T. But we all know he can bring the funny when he wants to (your guess is as good as mine as to what's going on with him in those GROWN-UPS movies).
-Vincent Zahedi
"Papa Vinyard"
vincentzahedi@gmail.com
Follow Me On Twitter