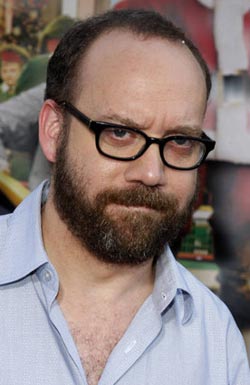 Following Shirley MacLaine's magnificent turn as Cora Levinson Crawley's mother last season, "Downton Abbey" is importing another member of Cora's American family, and he'll be played by HBO's John Adams, Paul Giamatti.
Giamatti will play Cora's playboy brother Harold Levinson in the fourth season, which launches on PBS Jan. 4.
MacLaine, who appeared on two season-three episodes as Martha Levinson, will appear in season four as well.
Giamatti, who got a huge career boost when he landed the role of Howard Stern's boss and primary adversary in 1997's "Private Parts," went on to supporting roles in "The Truman Show," "Saving Private Ryan," "The Negotiator," "Man on the Moon" and "Planet of the Apes" before landing the lead as Harvey Pekar in "American Splendor."
The actor snagged the starring role in 2004's "Sideways," which garnered an Oscar nomination for best picture and won the best picture awards from the Independent Spirit Awards, the Broadcast Film Critics Association, the New York Film Critics Circle, the Los Angeles Film Critics Association, the Chicago Film Critics Association, the San Francisco Film Critics Circle, the Southeastern Film Critics Association, the Toronto Film Critics Association, the Vancouver Film Critics Circle, the Florida Flim Critics Circle, the Hollywood Foreign Press Association, the International Press Academy
Giamatti was nominated for a best supporting actor Oscar for his role in 2005's "Cinderella Man."
He won an Emmy, a Satellite Award, a Golden Globe and a Screen Actors Guild Award for his title performance in the 2008 HBO miniseries "John Adams."
Find all of TV Line's exclusive on the matter here.