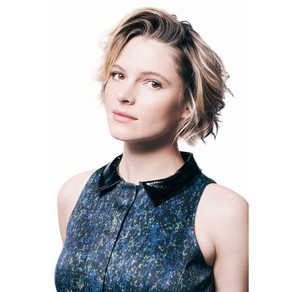 It's Amy Seimetz Sunday! The adorable filmmaker-actress continues as the hot, narcissistic mom on AMC's "The Killing" and begins her arc as potential love interest for Tom Chadwick on Christopher Guest's HBO comedy "Family Tree." I've not seen tonight's "Killing" but found a lot to laugh at in tonight's "Tree."
Cartoon Network says of tonight's "Spanakopita!":
If faced with wearing that outfit or letting our skin burn, we'd take the sun.
Premiering tonight:

Copper (10pm BBCA)

Crossing Lines (9pm NBC)

Devious Maids (10pm Lifetime)

Drop Dead Diva (9pm Lifetime)

Naked and Afraid (10:20pm Discovery)

Whodunnit (9pm ABC)
"True Blood" was the night's top scripted show last Sunday with a 2.4 -- which is precisely where "Game of Thrones" started this year.
"Falling Skies" indeed! It endured a startling second-week plummet. Last season the alien-invasion series never fell below a 1.2.
Sundays April 21-June 16, 2013
(Adults 18-49; repeats in gray; older weeks in parentheses)
6.3 (5.8) (---) (3.1) (---) (---) (---) (1.5) (2.3) NBA Basketball
--- (2.9) (2.8) (---) (2.6) (2.4) (2.9) (2.8) (2.6) Game Of Thrones
2.4 (---) (---) (---) (---) (---) (---) (---) (---) True Blood
1.9 (---) (---) (---) (---) (---) (---) (---) (---) US Open
1.3 (---) (---) (---) (---) (---) (---) (---) (---) Miss USA
1.2 (1.3) (1.8) (---) (2.6) (2.4) (2.2) (2.6) (1.8) Family Guy
1.2 (---) (---) (---) (---) (---) (---) (---) (---) Sprint Cup
1.1 (1.2) (1.6) (---) (---) (---) (---) (---) (---) Keeping/Kardashians
1.1 (1.0) (1.5) (---) (2.0) (2.0) (1.9) (2.1) (1.6) The Simpsons
1.0 (1.5) (---) (---) (---) (---) (---) (---) (---) Falling Skies
0.9 (0.9) (1.3) (---) (---) (1.6) (1.7) (1.7) (1.7) Bob's Burgers
0.9 (0.7) (---) (---) (---) (---) (---) (---) (---) Kimmel Primetime
0.9 (1.1) (1.3) (---) (---) (---) (---) (---) (---) Real Housewives NJ
0.9 (1.2) (0.6) (1.3) (1.5) (1.2) (1.5) (1.9) (---) 60 Minutes
0.8 (0.7) (0.8) (---) (---) (---) (---) (---) (---) Food Network Star
0.8 (0.6) (0.6) (0.5) (0.6) (0.9) (0.9) (0.9) (0.8) The Voice
0.7 (---) (0.9) (---) (---) (---) (---) (---) (---) American Baking
0.7 (0.8) (0.9) (---) (---) (1.9) (2.3) (1.9) (1.8) American Dad
0.7 (0.7) (1.0) (0.6) (0.8) (0.9) (---) (---) (---) Breaking Amish
0.7 (0.7) (0.7) (---) (0.8) (0.7) (0.8) (0.9) (0.8) Client List
0.7 (0.8) (0.8) (0.6) (0.8) (0.8) (0.9) (0.8) (0.9) Mad Men
0.6 (0.7) (0.7) (---) (1.1) (0.9) (---) (1.2) (0.9) Cleveland Show
0.6 (0.6) (0.7) (0.6) (1.0) (---) (---) (---) (---) North America
0.6 (0.5) (---) (0.5) (0.6) (0.5) (---) (0.6) (0.7) Restaurant Impossible
0.5 (0.7) (0.6) (0.4) (0.7) (---) (---) (---) (---) Alaska/Frontier
0.5 (0.7) (---) (---) (---) (---) (---) (---) (---) Ice Road Truckers
0.5 (0.6) (0.7) (0.7) (0.7) (0.8) (---) (---) (---) Long Island Medium
0.5 (---) (0.7) (0.6) (---) (---) (1.7) (1.6) (1.6) The Mentalist
0.5 (0.6) (0.7) (---) (0.6) (0.6) (0.6) (0.7) (0.6) Veep
0.5 (---) (0.5) (---) (0.5) (0.4) (0.5) (0.5) (0.9) Watch What Happens
0.4 (---) (0.5) (0.4) (---) (---) (---) (1.6) (1.5) The Good Wife
0.4 (0.4) (0.4) (---) (---) (---) (---) (---) (---) The Killing
0.4 (0.4) (---) (---) (---) (---) (---) (---) (---) Love/List It Too
0.4 (0.4) (0.7) (---) (0.6) (0.4) (0.6) (0.6) (0.4) MLBaseball
0.4 (0.4) (---) (---) (---) (---) (---) (---) (---) Princesses