Howdy do, everyone, Papa Vinyard here.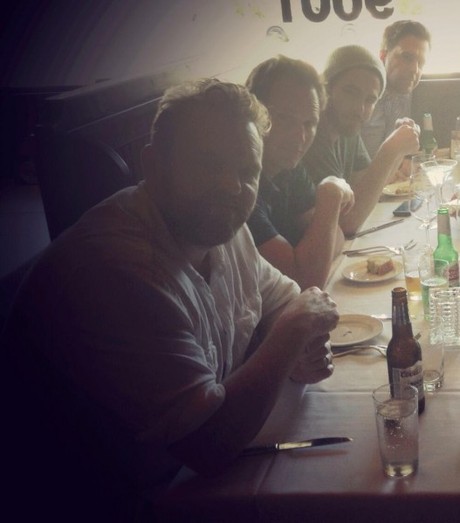 Universal Pictures has made a deal to distribute Joe Carnahan's next movie, STRETCH, in March of next year, according to this tweet by The Playlist. The studio, hot off the success of the small-budgeted THE PURGE, hopes to replicate that win by mass-distributing and mass-marketing this $5 million film with big name actors like Ed Helms, Chris Pine, and Brooklyn Decker. The story seems to be a sort of spin on COLLATERAL, with Patrick Wilson playing an indebted limo driver who picks up a shifty billionaire, played by Pine, and is forced to go along with his criminal bullshit for the promised big payout when it's all over. Helms plays a fellow limo driver, and Decker is Wilson's ex-girlfriend who he's trying to woo back with his expected fare.
After his fun foray into big-budget summer filmmaking with THE A-TEAM and his marvelously intense and brutal THE GREY, it is nice to see Carnahan going back to the more modestly-scaled style of NARC and SMOKIN' ACES, which he has compared this film to. STRETCH certainly seems to be at least slightly-comedic in tone, and if it can retain the urgency and quick-wit that the best moments of ACES have, it could prove to be another low-budget hit for Carnahan and Universal. I love the idea of such a talented director purposefully scaling himself down and working on a tighter budget than his last few pictures; even if you did not like the film, is there anyone who thinks LESS of Michael Bay after the $26 million PAIN AND GAIN (the comparison is warranted: for the guy who made BLOOD, GUTS, BULLETS, AND OCTANE on a budget of seven-and-a-half grand, his $5 million is equal to Bay's 26)? They're currently gearing up to shoot in L.A., so we'll probably be seeing more updates from the expressive director's twitter sooner than later.
STRETCH will drop on March 21st, 2014.
-Vincent Zahedi
"Papa Vinyard"
vincentzahedi@gmail.com
Follow Me On Twitter