Movie News
NOWHERE BOY director Sam Taylor-Johnson signs on to 50 SHADES OF GREY!!
Howdy do, everyone, Papa Vinyard here.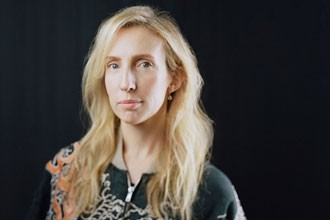 After getting word last Monday about the new screenwriter hire for 50 SHADES OF GREY, we now have confirmation from Deadline that NOWHERE BOY director (and wife of KICK-ASS actor Aaron Taylor-Johnson) Sam Taylor-Johnson has signed on to direct the upcoming feature film adaptation. She hasn't directed anything since that 2009 feature, but I'm sure the combination of her talent with actors, alongside her status as a relatively cheap female director with street-cred, helped her lock down this gig. She got BAFTA, London Critics Circle, and British Independent Film nominations for her debut film, and even before that, she was a heavy hitter in the photography world for her sexuality-driven pictures. Even if her work has been mostly unseen in the U.S., she gets some stateside tabloid press for being 20 years senior to her young, rising star husband. Hopefully, her presence in dirty journalism will prove to be a plus when her film version of the sexually-charged, bondage-heavy novel begins its marketing campaign.
-Vincent Zahedi
"Papa Vinyard"
vincentzahedi@gmail.com
Follow Me On Twitter