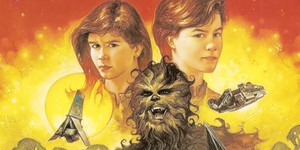 According to what appears to be a casting breakdown, Bad Robot, Lucasfilm and Disney are looking to fill seven new roles. The first three could be filled by the mid-1970s versions of Mark Hamill, Harrison Ford and Carrie Fisher:
1) Man Early 20s. Not classically handsome. He is witty and smart. Physically fit.
2) Man Late 20s. Physically fit, handsome and confident.
3) Woman late teens. Physically fit, independent and with a great sense of humor.
Then there's this:
4) Man 65-75 Tough and opinionated.
Alec Guiness was 63 in 1977.
5) Man 30ish An intellectual.
So they're finally sticking a nerd in "Star Wars"? This is the only character among the seven who can be fat.
6) Man 40s Physically fit, military type.
A military type in a film with "Wars" in the title!
7) Woman late teens. Tough, smart, physically fit.
A female Biggs Darklighter to serve as BFF to character 3?
I've not read any "Star Wars" novels since the 1970s, so I leave the talkbackers to spin themselves into a frenzy guessing which expanded universe characters these might or might not be describing.
"Star Wars Episode VII" is due to hit screens mid-2015.
The casting breakdown was apparently first posted Schmoes Knows.