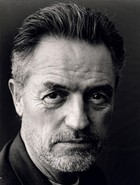 Jonathan Demme is getting into the sci-fi game by directing "Line of Sight," the first sci-fi pilot greenlit by AMC.
Blake Masters, who created Showtime's superb political/mob drama "Brotherhood," created "Line of Sight," too.
From AMC's April press release:
"Line of Sight" is the story of Lewis Bernt, a National Transportation Safety Board (NTSB) investigator who survives a mysterious plane crash, bringing him on a quest to discover the accident's cause.
Time travelers? Extraterrestrials?
"Blake Masters has created a world and set of characters that defies the traditional boundaries of drama and sci-fi. It's got great elements of both genres while also having that unique blend of a conspiracy thriller. It is genuinely unexpected and unconventional," said Joel Stillerman, AMC's EVP of original programming, production and digital content.
Demme ("Silence of the Lambs," "Philadelphia," "Rachel Getting Married") may be new to sci-fi but he's not new to TV. His strong pilot for "A Gifted Man" resulted in a series order from CBS in 2011
If you need evidence of Masters' mastery, check out "Only A Pawn," the 2007 episode of "Brotherhood" he wrote and directed.
This is a project worth rooting for. Production begins later this year.