Howdy do, everyone, Papa Vinyard here.
There are all sorts of cool promo posters and images coming out of the Licensing Expo that's currently going on in Las Vegas, and now, we have one via Coming Soon that depicts, appropriately enough, Vegas after an apparent stomping by the Big Green Guy. I don't know if this is showing something that actually happens to the movie, but I fucking hope so; we see L.A., New York, and even Chicago get blown-ed up all the damn time, but aside from MARS ATTACKS, Vegas usually gets a pass. Wouldn't it be satisfying to see tourist families and gambling addicts running for their lives as Gojira tears down all the tacky architecture on the Strip?
One thing's for sure: this image shows the kind of hell-fire damnation that the carnage in this movie will be shooting for. This time it's not just some crumbled buildings or holes in NYC skyscrapers. This looks like the freaking THIS IS THE END apocalypse, merely instigated by a radioactive lizard and whatever dumb-ass alien/creature that has the nerve to step up to him.
There's also an interesting quote in the press release specifically created for the event. Legendary and Warner Bros. slipped this tidbit in, hinting that kaiju battling will be part of this reboot:
"Featuring spectacular creatures, thrilling action, epic battles and a legendary monster, Godzilla provides the backbone for a monstrous merchandise offering for fans of all ages and enables compelling cross-category opportunities across mass and specialty retailers."
As Shock Till You Drop notes, they happen to mention the presence of multiple, "spectacuular" creatures alongside the titular beast, so it would seem that this green giant will have more to deal with than tanks and General "Thunderbolt" Ross.
So, I guess all that's left to say is…fuck yeah.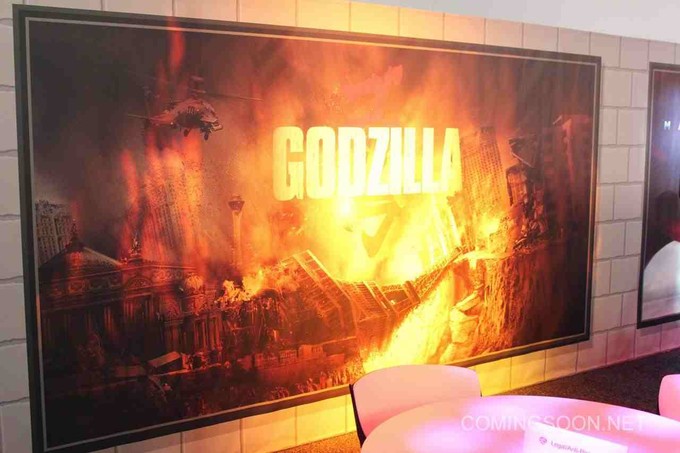 Think it's a stretch that Warner Bros. will premiere a teaser with PACIFIC RIM? 'Cause I don't.
Gareth Evans' GODZILLA opens May 16th, 2014.
-Vincent Zahedi
"Papa Vinyard"
vincentzahedi@gmail.com
Follow Me On Twitter