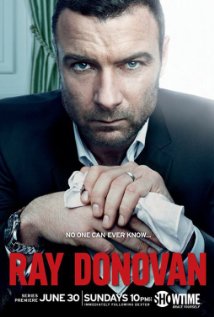 This comes to us from writer-producer Ann Biderman, who created "Southland" and wrote big-screen projects "Copycat" (1995), "Primal Fear" (1996), "Smilla's Sense of Snow" (1997) and "Public Enemies" (2009). The promo I've seen suggests Biderman really enjoyed "Michael Clayton."
Showtime describes the premise:
Set in the sprawling mecca of the rich and famous, RAY DONOVAN is the man called in to make the city's celebrities, superstar athletes, and business moguls' most complicated and combustible situations go away. This powerful drama unfolds when his father, Mickey Donovan, played by Oscar® winner Jon Voight, is unexpectedly released from prison, setting off a chain of events that shakes the Donovan family to its core.
It stars Live Schreiber in the title role, with a supporting cast that includes Jon Voight, Katerine Moening, Kristin Minter, Frank Whaley, Eddie Marsan, Paula Malcomson, Dash Mihok, Josh Pais, Brooke Smith and Elliott Gould.
The pilot doesn't hit Showtime until June 30, but you can watch all 58 minutes of it right now: