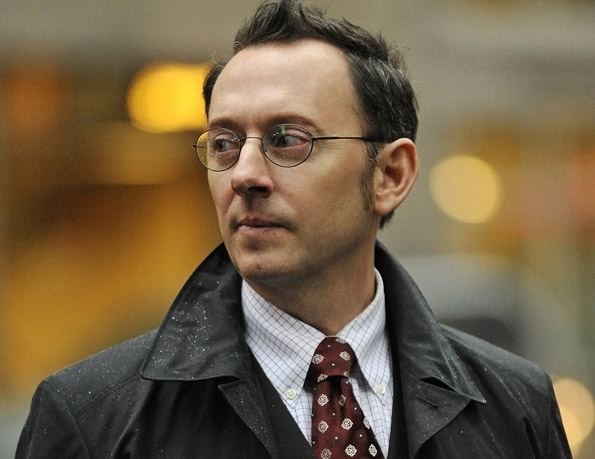 "Survivor" will be first out of the gate for CBS. "Intelligence" will take over the "Elementary" slot in February:
Wednesday, Sept. 18
8:00-9:30 PM SURVIVOR (27th edition premiere)
Sunday, Sept. 22
8:00-11:00 PM, ET/5:00-8:00 PM, PT THE 65TH PRIMETIME EMMY(R) AWARDS
Monday, Sept. 23
8:00-9:00 PM HOW I MET YOUR MOTHER (9th season premiere)
9:00-9:30 PM 2 BROKE GIRLS (3rd season premiere)
9:30-10:00 PM MOM (Series Debut)
10:00-11:00 PM HOSTAGES (Series Debut)
Tuesday, Sept. 24
8:00-9:00 PM NCIS (11th season premiere)
9:00-10:00 PM NCIS: LOS ANGELES (5th season premiere)
10:00-11:00 PM PERSON OF INTEREST (3rd season premiere)
Wednesday, Sept. 25
9:00-10:00 PM CRIMINAL MINDS (9th season premiere)
10:00-11:00 PM CSI: CRIME SCENE INVESTIGATION (14th season premiere)
Thursday, Sept. 26
8:00-8:30 PM THE BIG BANG THEORY (7th season premiere)
8:30-9:00 PM THE MILLERS (Series Debut)
9:00-9:30 PM THE CRAZY ONES (Series Debut)
9:30-10:00 PM TWO AND A HALF MEN (11th season premiere)
10:00-11:00 PM ELEMENTARY (2nd season premiere)
Friday, Sept. 27
8:00-9:00 PM UNDERCOVER BOSS (5th season premiere)
9:00-10:00 PM HAWAII FIVE-0 (4th season premiere)
10:00-11:00 PM BLUE BLOODS (4th season premiere)
Saturday, Sept. 28
10:00-11:00 PM 48 HOURS (26th season premiere)
Sunday, Sept. 29
7:00-8:00 PM 60 MINUTES (46th season premiere)
8:00-9:00 PM THE AMAZING RACE (23rd edition premiere)
9:00-10:00 PM THE GOOD WIFE (5th season premiere)
10:00-11:00 PM THE MENTALIST (6th season premiere)
Monday, Feb. 24
10:00-11:00 PM INTELLIGENCE (Series Debut)
MOM is a comedy from executive producer Chuck Lorre starring Anna Faris as a newly sober single mom raising two children in a world full of temptations and pitfalls, and multiple Emmy Award winner Allison Janney as her critical, estranged mother. Christy (Faris) is a waitress at a posh Napa Valley establishment who is four months clean and doing her best to be a good mom and overcome a history of questionable choices. Her sobriety is tested when Bonnie (Janney), her recovering alcoholic mom, reappears chock-full of passive-aggressive insights into Christy's many mistakes. Bonnie joins Christy's already complicated circle of relationships: her handsome, married boss – and lover – Gabriel (Nate Corddry); the restaurant's hot-tempered chef, Rudy (French Stewart); her pretty, 16-going-on-25-year-old daughter, Violet (Sadie Calvano); her sweet but overly honest son, Roscoe (Blake Garrett Rosenthal); her irresponsible ex-husband and Roscoe's father, Baxter (Matt Jones); and Violet's clueless boyfriend, Luke (Spencer Daniels). Christy tries to remain positive as she pursues her new path in life, but she faces an uphill battle, surrounded by a dubious support system – and a copious amount of dysfunction. Chuck Lorre and Eddie Gorodetsky ("Two and a Half Men" and "The Big Bang Theory") are executive producers for Chuck Lorre Productions in association with Warner Bros. Television. Pamela Fryman directed the pilot. Gemma Baker co-wrote the pilot with Lorre and Gorodetsky.
THE MILLERS stars Will Arnett as Nathan Miller, a recently divorced local roving news reporter looking forward to living the singles' life until his parents' marital problems unexpectedly derail his plans. After Nathan finally breaks the news of his divorce to his parents, Carol (Emmy Award winner Margo Martindale) and Tom (Emmy Award winner Beau Bridges), his father is inspired to follow suit and stuns the family when he leaves his wife of 43 years. Already in shock, Jack is even more aghast when his meddlesome mom decides to move in with him. Meanwhile, his absent-minded dad imposes upon Nathan's sister, Debbie, her husband Adam and their daughter Mykayla (Eve Moon). Nathan's best friend and news cameraman, Ray (JB Smoove), was excited to be Nathan's wingman in the dating scene, but Carol manages to even cramp his style. Now, as Nathan and his sister settle in with their truly impossible parents, they both wonder just how long the aggravating adjustment period is going to last. Emmy winner Greg Garcia ("Raising Hope" and "My Name is Earl") is the executive producer of THE MILLERS for CBS Television Studios. Emmy Award winner James Burrows directed the pilot.
Academy Award winner Robin Williams returns to series television in THE CRAZY ONES, a single-camera workplace comedy about a larger-than-life advertising genius whose unorthodox methods and unpredictable behavior would get him fired… if he weren't the boss. Simon Roberts (Williams) is the head of a powerful agency, with the biggest clients and brands in the world, but even more important to him is that his daughter Sydney (Sarah Michelle Gellar) is by his side. As his partner, Sydney is Simon's exact opposite – focused, organized and eager to make a name for herself, but also too busy parenting her father, which she'd resent if he wasn't so brilliant at what he does. Joining them in the firm are the dashing and talented Zach (James Wolk); art director Andrew (Hamish Linklater), who's as hard-working as he is neurotic; and the beautiful and deceptively smart assistant Lauren (Amanda Setton). With his team and his daughter behind him, Simon continues to set the advertising world on fire, and it looks like they are definitely buying what these crazy ones are selling. Emmy and Golden Globe Award winner David E. Kelley ("Ally McBeal" and "The Practice"), Bill D'Elia, Emmy Award winner Jason Winer ("Modern Family"), Dean Lorey, John Montgomery and Mark Teitelbaum are executive producers for Twentieth Century Fox Television. Jason Winer directed the pilot.
INTELLIGENCE is a dramatic thriller starring Josh Holloway as a high-tech intelligence operative enhanced with a super-computer microchip in his brain. With this implant, Gabriel (Holloway) is the first human ever to be connected directly into the worldwide information grid and have complete access to Internet, WiFi, telephone and satellite data. He can hack into any data center and access key intel in the fight to protect the United States from its enemies. Leading the elite government cyber-security agency created to support him is Director Lillian Strand (Marg Helgenberger), a straightforward and efficient boss who oversees the unit's missions. Strand assigns Riley Neal (Meghan Ory), a Secret Service agent, to protect Gabriel from outside threats, as well as from his appetite for reckless, unpredictable behavior and disregard for protocol. Other skilled members of the Cybercom team include Chris Jameson (Michael Rady) and Gonzalo "Gonzo" Rodriguez (James Martinez), two resourceful federal investigators. The brains behind the design of the chip is Dr. Shenendoah Cassidy (John Billingsley), whose son, Nelson (PJ Byrne), is jealous of Gabriel's prominent place in his father's life. As the first supercomputer with a beating heart, Gabriel is the most valuable piece of technology the country has ever created and is the U.S.'s secret weapon. Michael Seitzman, René Echevarria, Tripp Vinson, and David Semel (for pilot) are executive producers for ABC Television Studios in association with CBS Television Studios.