Howdy do, everyone, Papa Vinyard here.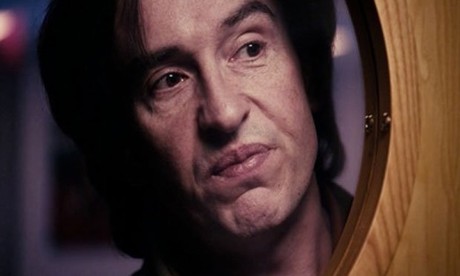 While Steve Coogan is best known stateside as a comic supporting player in films like TROPIC THUNDER and THE OTHER GUYS, he first broke through in the U.K. as a character named Alan Partridge. Partridge, essentially a befuddled takeoff on cornball, uptight British reporters, first hit it big on radio (on a show called ON THE HOUR, co-created by IN THE LOOP and VEEP writer Armando Ianucci), before getting his own chat show, two television series, several specials, a (fake) autobiography, and now, his own movie-film-for-theaters. The character, somewhat modeled after British record producer/TV personality Tony Wilson (who Coogan played in 24 HOUR PARTY PEOPLE), didn't cross over to mainstream America nearly as well as Sacha Baron Cohen's Ali G, Borat, and Bruno, but he probably remains Coogan's most popular character across the pond, and he's finally seen fit to give the clueless chat-artist his own feature.
The flick, dubiously subtitled ALPHA PAPA, has Patridge firing his longterm sidekick (played by Colm Meany), before being forced to negotiate with the disgruntled firee when he takes the radio studio hostage, AIRHEADS-style. The trailer makes it apparent that most of the film takes place in and around this radio station, and that the humor is mostly derived from Coogan's goofy sarcasm and Meany's deranged desperation. It sets up the character well to audiences who may, or may not, know who Partridge is, even in Britain, where he's been out of the mainstream for a few years (aside from a TV special and some webisodes) due to Coogan's film career. I think most of the jokes hit well (his offhand description of Fleetwood Mac sets the mood up nicely, and I thought the helicopter gag is pretty damn funny), and it's awesome to see Coogan as the lead in a straight-up comedy for the first time since HAMLET 2, after spending the last several years killing it in his supporting parts and his more dramatic work with Michael Winterbottom (THE LOOK OF LOVE, THE TRIP).
And doesn't everyone dig seeing Colm Meany? He's like the John C. Reilly of British cinema.
Also, here is the original teaser that (kinda) explains where they got the name ALPHA PAPA. I'm with Partridge in my preference for COLOSSAL VELOCITY, but hey. The Brits are bigger fans of subtlety, I suppose.
ALAN PARTRIDGE: ALPHA PAPA will release in the U.K. on August 7th. Presumably, it'll come on VOD or home video (I don't see this getting a wide theatrical release) sometime thereafter.
-Vincent Zahedi
"Papa Vinyard"
vincentzahedi@gmail.com
Follow Me On Twitter