Howdy do, everyone, Papa Vinyard here.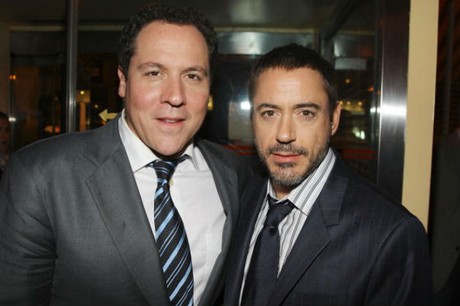 Open Road Film has announced that they have picked up the most recent film by IRON MAN director Jon Favreau, for a Mother's Day release date next year. The film, entitled CHEF, is a much smaller affair than the big-budget stuff he's directed (and circled around) for the past few years, and puts the actor-director back in a starring role for the first time since THE BIG EMPTY ten years ago. The supporting cast, which includes Sofia Vergara, John Leguizamo, and, most enticingly, his IRON MAN 2 stars Scarlett Johansson and Robert Downey, Jr., is high-profile backup for Favreau, who plays a chef (go figure) that is fired from his restaurant gig and opens a food truck to get his mojo back. I am super-excited to see Favs get back into the kind of low-budget, human-comedy films he cut his teeth on with movies like SWINGERS (which he wrote, but didn't direct) and MADE, especially with a roster of actors that rivals the latter film's (which had small parts for Peter Falk, Bud Cort, Famke Janssen, Sam Rockwell, Sean "Diddy" Combs, and an awesome bunch of SOPRANOS actors).
Here's Open Road's announcement:
Los Angeles, June 12, 2013 – Open Road Films has acquired the U.S. rights to Jon Favreau's rich and vibrant comedy "Chef." Financed by Aldamisa Entertainment, "Chef" is based on an original screenplay by Favreau, who will direct and star in the movie. "Chef" will also star Sofia Vergara, Scarlett Johansson, John Leguizamo and Robert Downey, Jr. Open Road Films will release the movie nationwide Mother's Day Weekend – May 9, 2014. The deal was announced today by Tom Ortenberg, CEO of Open Road Films and Sergei Bespalov, Co-Chair and Co-CEO of Aldamisa Entertainment.
"Chef" is the story of Carl Casper (Favreau), who loses his chef job and cooks up a food truck business in hopes of reestablishing his artistic promise. At the same time, he tries to reconnect with his estranged family.
Producers are Karen Gilchrist and Aldamisa's Sergei Bespalov. Production begins in July 2013 in Los Angeles.
"Led by the wildly talented Jon Favreau, this is a very exciting project with a fantastic script and a truly incredible group of actors," stated Ortenberg. "We are thrilled to be in business again with Aldamisa and to add this project to our 2014 slate."
Stated Bespalov, "It's very exciting to begin production on this witty and charming project with its terrific cast, led by the multi-talented Jon Favreau."
The deal was negotiated on behalf of Open Road Films by Ortenberg, Elliott Kleinberg, General Counsel and Executive Vice President of Operations and Business Affairs, and Ben Cotner, Senior Vice President of Acquisitions. CAA, which packaged and arranged financing for "Chef," brokered the deal on behalf of the filmmakers. The deal was negotiated on behalf of Aldamisa by COO Jere Hausfater and Philip Elway.
CHEF will start cookin' on May 9th, 2014. It's opening against a Tyler Perry movie; this may be shocking, but I'm rooting for Favreau.
-Vincent Zahedi
"Papa Vinyard"
vincentzahedi@gmail.com
Follow Me On Twitter