Howdy do, everyone, Papa Vinyard here.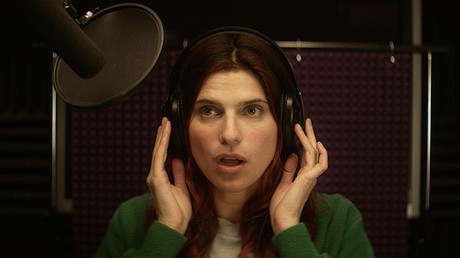 Today, we get the first trailer for the directorial debut of actress Lake Bell (CHILDREN'S HOSPITAL, A GOOD OLD FASHIONED ORGY, OVER HER DEAD BODY), and it is, ironically enough, set in the world of trailer voice-overs. Bell plays the protagonist, a Hollywood vocal coach who attempts to break into the male-dominated industry of doing V.O. work on movie trailers. The trailer highlights the tropes of their trade, including the Don Lafontaine-esque deep voices and the uses of phrases like, you guessed it, "In a world…" (where nothing is what it seems, where good men do bad things, etc.). It also gives us a peek at the crazy-talented cast, which also includes Demetri Martin, Nick Offerman, Rob Corddry, Michaela Watkins, Ken Marino (who looks hilarious as a professional rival), Tig Notaro, and Fred Melamed (Sy Ableman from A SERIOUS MAN), who plays Bell's deep-voiced trailer-vet father.
While this tradition of every sitcom/B-level actor/actress getting their own indie movie (for every Clark Gregg or Peter Berg that probably deserves it, a Josh Radner or Zach Braff takes a budget away from a genius film student) is a little tiresome, this premise manages to stand apart from the countless films about the exclusivity of the mainstream film industry (much like Gregg's touching TRUST ME). Bell has never wowed me with any of her acting work, but even the snippets of her character that we see here makes me consider that she may be the only writer/director to giver herself the opportunity to show off her skills. That bit with the ditzy girl at the end of the trailer definitely made me chuckle.
Bell's film got solid press out of Sundance, where reviewers praised the low-key nature of the humor and Bell's performance, in particular. After seeing her primarily taking best-friend roles and forgettable TV gigs over the past few years, I hope this announces t he next stage in her career, and I wish her the best whenever this movie actually comes out. I'm always a sucker for a good film-industry-based comedy.
IN A WORLD… will be released in the U.K. on September 13. No word yet on a U.S. release date, but the film was picked up out of Sundance by Roadside Attractions, so expect a VOD or theatrical release sooner than later.
-Vincent Zahedi
"Papa Vinyard"
vincentzahedi@gmail.com
Follow Me On Twitter