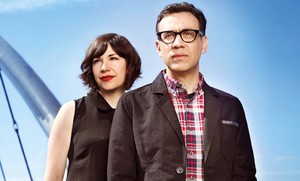 Carrie Brownstein seemed to help Fred Armisen say goodbye on last month's season finale of "Saturday Night Live," and perhaps this helps explain why:
IFC RENEWS PORTLANDIA FOR TWO MORE SEASONS

NEW YORK, NY –June 12, 2013 – IFC has renewed its hit original comedy series Portlandia for fourth and fifth seasons. Each season will feature 10 half-hour episodes, to premiere in early 2014 and early 2015, respectively. The Emmy® nominated, Peabody and WGA Award-winning series is created and written by Fred Armisen (SNL) and Carrie Brownstein (Sleater-Kinney), stars of the show, and Jonathan Krisel, the show's director. Portlandia is executive produced by Lorne Michaels and produced by Broadway Video.

"Portlandia has celebrated sustainable local agriculture, underemployment, avian crafting, gender politics, intense bicycle messengers and so much more," said Jennifer Caserta, president and general manager of IFC. "We can now celebrate two more seasons."

The first three seasons of Portlandia expanded the boundaries of gentle satire and social commentary. From the feminist shopkeepers Toni and Candace to the overly eco-conscious couple Peter and Nance, Armisen and Brownstein transform into a collection of charmingly earnest characters who make up Portlandia, the quirky, free-range world created as an affectionate love letter to Portland, OR.

In addition to its regular inhabitants, Portlandia has been home to an impressive list of guest stars, including Kyle MacLachlan (Desperate Housewives, Twin Peaks), Chloë Sevigny (American Horror Story), Jeff Goldblum (Jurassic Park), Kumail Nanjiani (Franklin & Bash), Roseanne Barr (Roseanne), Rose Byrne (Bridesmaids), Patton Oswalt (Young Adult), tennis champion Martina Navratilova, and George Wendt (Cheers), among many others.