Howdy do, everyone, Papa Vinyard here.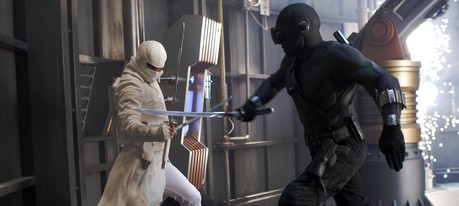 We got word from Mike Fleming Jr. over at Deadline that director Jon M. Chu is in final negotiations to reprise his duties on G.I. JOE: RETALIATION for G.I. JOE: WHATEVER THE FUCK THEY DESIDE TO CALL IT a.k.a. G.I. JOE 3. While Stephen Sommers' G.I. JOE: RISE OF COBRA wasn't really many people's cup of tea (despite cutting a decent profit worldwide), Chu pulled together a flick that managed to make more money internationally on a lower budget, while (at least somewhat) resuscitating fans' interest in the franchise. It is a no-brainer getting Chu to stay onboard the series, given his streak of successes that also includes STEP UP 2 THE STREETS, STEP UP 3D, and JUSTIN BIEBER: NEVER SAY NEVER. There's no script yet, but Chu is currently looking for writers.
I personally thought his G.I. JOE flick pulled off what the first one almost, but not quite, succeeded in doing, which was creating a cartoony world where Real American Heroes can do fun, PG-13 battle with an outlandishly villainous Cobra. Many of my biggest problems with the film have to do with the wedged-in reshot footage meant to beef up Channing Tatum's role and the wildly inconsistent tone, which one would hope won't carry over to the threequel. Despite its flaws, the film had more going for it than not, with a strong sense of humor, some killer action beats, and my favorite Jonathan Pryce performance since the '90s. If Chu can focus on maintaining the energy of the best moments of RETALIATION, as well as managing to keep The Rock, Bruce Willis, and, ideally, Pryce, Ray Park, Byung-hun Lee and Adrianne Palicki onboard, the series should continue to steadily improve; who knows, maybe one of these times, they'll actually get it totally right, and give us a G.I. JOE flick that lives up to the animated film!
-Vincent Zahedi
"Papa Vinyard"
vincentzahedi@gmail.com
Follow Me On Twitter