Cool News
Quint and Nick Offerman chat The Kings of Summer, his "Sheriff Years" and why working with his wife is good therapy!
Ahoy, squirts! Quint here. I'm in full on catch up mode with some interviews, so I'm a little late with this one, but I think I can still claim timeliness since The Kings of Summer is doing strong business in limited release and is continuing its US expansion.
When I was approached to do an interview with Nick Offerman for this movie I jumped at the chance. I had only seen his film work at that point, but I loved his turn in The Kings of Summer and after having seen him in Smashed I knew that I wanted to talk to this man.
Naturally I Netflixed Parks and Rec, planning to squeeze in maybe the first season before the interview. A few days later I had crammed 4 seasons and was ready to join the Ron Swanson fan club. So, I was primed for this chat.
And it went exactly as I'd hope. Mr. Offerman was dryly funny, very open and a great chat. We cover a lot of ground, from The Kings of Summer, the kind of material he's on the lookout for, his "Sheriff Years" and working with his very funny and talented wife.
Now I'll let the chat roll. We had a short phone interview, which began in about the most perfect Ron Swanson way as you could possibly hope for. Enjoy.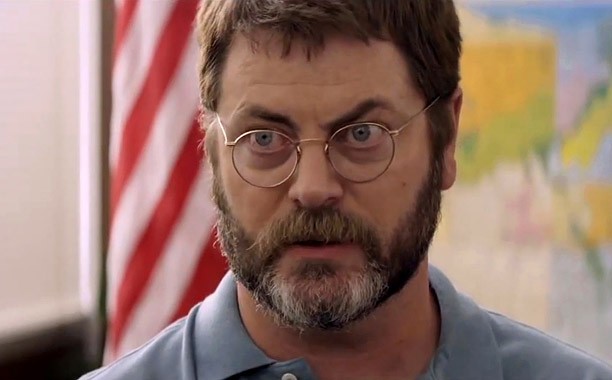 Nick Offerman: Eric. You have 15 minutes. Go.
Quint: (laughs) Oh God, the pressure!
Nick Offerman: (laughs)
Quint: How's it going, man?
Nick Offerman: Going good. How're you doing?
Quint: Great. I wanted to start by saying that I loved the movie and since seeing it I decided to mainline Parks and Rec, so I'm now firmly in camp Nick Offerman.
Nick Offerman: Thank you, I appreciate it.
Quint: I've always appreciated the smaller character work you did, like in Smashed, but it seems like now you're all over the place.
Nick Offerman: When I got to LA a great casting director who is now departed, Mali Finn, told me that I would do well when I reached my "Sheriff Years." I think she may have had something there. I silently thank her, even now.
Quint: Have you played a sheriff yet?
Nick Offerman: I did play a sheriff many years ago. When Megan (Mullally) and I first met we were starting to get hot and heavy and she wasn't sure she wanted to get into it with me. We were doing a play together and she said "I have to go do this movie, this John McNaughton movie called Speaking of Sex, in Canada for a couple of weeks and it would be good. I can take a break and really determine if I want to go into this relationship." The next day Ted Levine dropped out of the sheriff's part and they called me, so I ended up going and doing the movie with Megan. We only used one hotel room and here we are. (laughs)
Quint: So trial by fire, then.
Nick Offerman: Yes.
Quint: I can see why they jumped from Levine to you. You've both got shall we say intimidating voices.
Nick Offerman: I guess so, yeah. I'm a big fan of Ted. I worked with him on Buried Child at Steppenwolfe in Chicago and thought "If I could just be that scary and be allowed to talk that slowly some day I'll have made it!"
Quint: I had really high expectations going into Kings of Summer and the movie and loved it. One of the things I was pleasantly surprised about was the quality of the strained father/son relationship between you and Nick Robinson. In coming of age movies the relationships with the parents is sometimes marginalized…
Nick Offerman: Yeah, especially when it's as laced with comedy as this film is.
Quint: Exactly. I loved that the film had a little bit of a John Hughes absurdist streak running through it. It's important for your character to push Joe away or you don't have a movie, but if that came across as intentionally cruel the whole dynamic wouldn't have worked. Did you and Jordan (Vogt-Roberts) discuss that delicate line or was that all pretty clear on the page?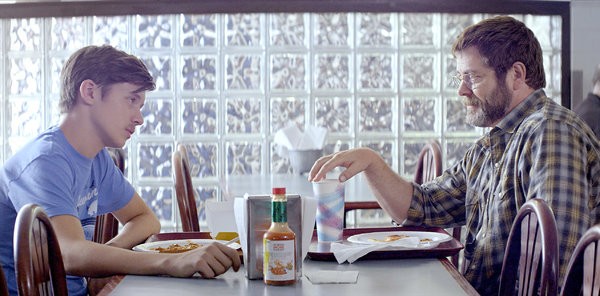 Nick Offerman: I think Chris Galletta's script is so well crafted that it didn't bear a lot of discussion. It was kind of there, you know? They bravely cast that role, cast me, first because as you pointed out that's sort of the lynchpin for the arc of the whole film. That was the writing on the wall going into it. We started looking at the young guys trying to find someone we could carry that relationship through with.
I can't say enough about Galletta's script. He's so meticulous and I was so thrilled at the way he achieved what you pointed out, this finely tuned relationship, while at the same time this really uproarious humor. Megan and I were just really impressed with both he and Jordan Vogt-Roberts. Every two days we'd say to Jordan, "How old are you now?" This is his first feature and pulled it off so masterfully. It's better than the peak of many directors' careers.
Quint: There's an earnestness to the movie. This kind of tale doesn't work if told cynically or if there's one shred of inauthenticity about it.
Nick Offerman: Agreed.
Quint: It's interesting that you said you were cast first. It seems you're your son's arc is that he struggles to not be his dad and step by step he kind of becomes him. He even keeps a mustache.
Nick Offerman: It's really beautiful. It was nice for me to get to play something with a nice emotional arc, especially since it's in the context of a comedic film. It was pretty clear from the getgo that both Frank and Joe are in the same kind of pain. They have both lost their wife and mom and they're damaged and they need to come around to the place where they say "Hey, we're actually suffering from the same malaise here, we just need to figure out that we need to hug each other and move on."
Quint: I get the impression that if this tragedy had happened 10 years earlier or 10 years later they wouldn't have had this crisis together.
Nick Offerman: Yeah, Joe's just at the right age to not be able to discuss these feelings and it's a classic father/son Mexican standoff. All we have to do is say I love you and embrace, but there are all these traditional manly walls standing between that resolution.
Quint: You mentioned being impressed with the script. Is that the main thing for you when looking for a project or do you take into account the director and cast, etc.
Nick Offerman: Those factors certainly carry some weight, but my wife and I have two rules, basically. The first thing is we have to love the writing. If it ain't on the page, it ain't on the stage as they say. Beyond that it has to be people that we think we will love to work with. We're fortunate in that most of what we do is with people that we know and are friends with, so it's a beautiful part of this life that is so busy is that we at least get to see a lot of our friends all day long at work, which is great otherwise we'd have no social life!
In the case of this film it was all unknown quantities to me. They sent some shorts that Jordan had made. Some of the worlds overlapped, I knew some of the people that he worked with a lot. He comes from the world of Chicago comedy and both Megan and I come from a world of Chicago theater, which are two pretty different worlds, but we've sort of been adopted into the comedy world.
The guy who plays the rookie cop, Thomas Middleditch, is somebody who I am a very big of and the fact that he was kind of a mainstay of Jordan's comedy shorts was very winning to me.
He made a short called Successful Alcoholics with Lizzy Caplan, who's a friend of ours, and TJ Miller and that was a really incredible piece. It looked like this guy was ready to make a good film.
He went so much farther by shooting around Cleveland around the middle of summer and he brought in the funniest people as possible for every little cameo role. I can't say enough about how much I think the film's quality was bumped by him bringing in Kumail Nanjiani and Hannibal Buress and Tony Hale and Mary Lynn Rajskub and Gillian Vigman, who is my ill-fated girlfriend.
Quint: I'm a big fan of character actors and I love it when a director can populate his movie with great personalities and faces. Sergio Leone was a master at that. It brings a kind of comfort level for the audience, especially for movie fans. If a movie has a lot of great people in it we know that there's going to be something interesting in every scene.
Nick Offerman: It's true. It's a very fine line, depending on your mentality and your budget. If you're shooting in Memphis and you say, "Okay, we'll just grab somebody local for the homeless guy," but if have the wherewithal to cast Marty Feldman as the homeless guy then that becomes a moment of delight, it's a bon-bon in the middle of the meal rather than just another forkful.
Quint: Did they approach both you and Megan for the film at the same time?
Nick Offerman: No. Megan's with UTA now, but at the time I was at UTA and she was not and they were focusing pretty singly on the character of Frank Toy. Once I came on board and started talking to Jordan about the rest of the casting… as is often the case, especially in indie film, if they land one of us that quickly becomes the both of us. That happened a year earlier with Smashed. James Pondsoldt brought that to me and I read it and said, "Hey, you ought to think about this great actress, Megan Mullally, for the part of the principal." They said, "Do you think we could get her?!?"
It's a funny mentality where people think their project is too small for someone, but Megan and myself, we're just really these days looking for good film roles. That's kind of our main focus. If it's a script that we love, since we come from small Chicago theater we generally don't think of budget first. We look at the script.
Talking to Jordan about the casting of this, again the whole production perked up their ears and said, "Do you think we can get her for the other mom part?"
We had a long talk about Marc Evan Jackson, who I was not familiar with and who is now my project. He's the most talented guy. He's going to blow up in some major way. That guy is so funny. Jordan brought him to me and said, "I want to use this guy, Marc Evan Jackson. He's the funniest guy, he's going to blow your mind." Then he sent me a couple shorts that he had done with him and I said, "Oh my God!" We've become good friends. He's one of those guys who, much like myself, gets to work all the time, but he just has to find the right role and he can become the next Steve Carell, I think.
Quint: Is there a clause in your contracts that if you and Megan appear in a movie together that your characters have to hate each other?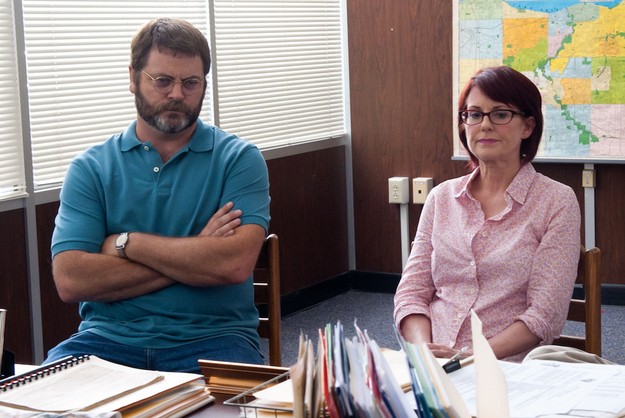 Nick Offerman: (laughs)
Quint: I'm noticing a trend here… Is it some form marriage counceling or something?
Nick Offerman: No, it's fortunate coincidence, but it does work out as really wonderful therapy. Getting to pretend to scream at each other is a wonderful release. We're lucky that we get along and that we love to work together. I'm given to understand that's not always the case with married couples.
We're actually doing a play together in LA right now that's just a 90 minute two-hander and we're just happy as clams 13 years into our relationship to finally get to do a Lunt and Fontanne turn where we're just tearing it up as a team. We love doing that on Parks and Rec as well.
I've had hero worship for Megan for a great many years, so to get to take the stage with her and get to be her juggling partner… nothing could be more gratifying to me.
Quint: What's the play?
Nick Offerman: It's a new play called Annapurna by Sharr White. We're thrilled with how effective it is on the audience. It's kind of this barreling emotional two-hander. It's more of a drama with comedy moments, but it starts off with a bang and is a freight train for 90 minutes leaving the audience emotionally completely destroyed. We're just having a great time.
There's nothing like getting to work out on stage after years of TV. Parks and Rec is obviously very gratifying, but you're only getting to work 5-8 minutes at a time, so to get to wrestle and claw at each other for 90 minutes straight is quite delightful.
Quint: Thanks for your time, man. I really appreciate it.
Nick Offerman: My pleasure. Maybe I'll run into you. I'm in Austin a lot working with Bob Byington who is a local filmmaker. We just opened a movie I produced with him called Somebody Up There Likes Me.
Quint: It would be an honor.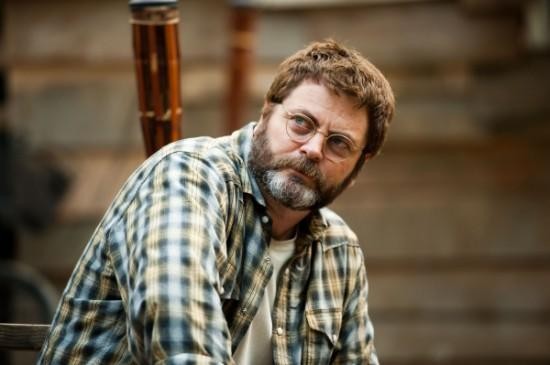 There you have it. I tried to make it to Annapurna when I was in LA, but I sadly missed my chance. I hear it was great! Hope you guys dug the chat! Now go see the movie if you can. It's got the goods!
-Eric Vespe
"Quint"
quint@aintitcool.com
Follow Me On Twitter