Movie News
Owen Wilson joins up with Jim Carrey to rob a bank for Jared Hess in a new comedy, formerly titled LOOMIS FARGO!!
Howdy do, everyone, Papa Vinyard here.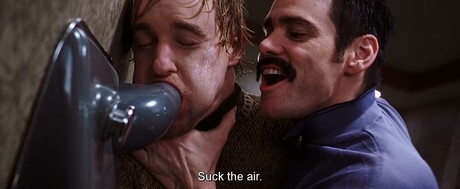 Can't keep Owen Wilson down, I guess. After his latest venture with Vince Vaughn, THE INTERNSHIP, got dissed by both critics and audiences, it seems that Wilson hopes to have better luck joining up with Jim Carrey for the new movie by Jared Hess (NAPOLEON DYNAMITE, NACHO LIBRE), formerly titled LOOMIS FARGO. The plot, based on a true story, concerns an armored car driver who, fed up with his menial existence, teams up with a group of thieves to pull an inside job and make off with his cargo of cash. When the thieves turn on him post-score and leave him with nothing, he starts plotting revenge on the sommbitches while they recklessly spend their earnings in a sort of reverse spin on THE ITALIAN JOB remake. Carrey will play the lead role of the disgruntled driver while Wilson, presumably, will play one of the central thieves (hopefully channeling his Dignan from BOTTLE ROCKET). While it doesn't necessarily sound like the kind of physical comedy-heavy role Carrey made his bones on, the combo of his wild energy and the perennially laid-back Wilson could be something interesting. If it has anything on their last team-up, you can bet my ass will be in that seat whenever this one finally hits theaters.
-Vincent Zahedi
"Papa Vinyard"
vincentzahedi@gmail.com
Follow Me On Twitter