Howdy do, everyone, Papa Vinyard here.
UPDATED (21:30):
We now have word from Deadline that the production company Red Granite Pictures (WOLF OF WALL STREET, FRIENDS WITH KIDS) is now circling the project, with up to five distributors waiting in the wings for a deal to be inked. They also note that this project's gonna have to come together quickly if it's gonna happen at all, so that Jeff Daniels can get back to THE NEWSROOM for its third season. But they seem optimistic, and we should follow suit!!
ORIGINAL STORY
This is me right now: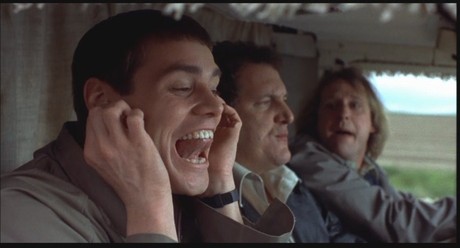 Argh. This hurts. After getting the closest they've ever come to greenlighting a true sequel to DUMB & DUMBER, we have word from The Hollywood Reporter that Warner Bros. has opted not to go forward with the project, entitled DUMB & DUMBER TO, and has put it into turnaround. If any other studios see fit to finance the thing themselves, they will own the property that put almost $220 million worth of profit into New Line's pocket back in '94 (so much so that they produced a for-shit prequel sans the original's stars that only pulled down 20 mil more internationally than their production budget). THR claims that, even though the film is currently budgeted at around 30 million bucks, WB was understandably freaked the fuck out by the tanking of THE INCREDIBLE BURT WONDERSTONE which, despite the high-profile cast that included Steve Carrell, Steve Buscemi, Olivia Wilde, Alan Arkin, and Jim Carrey himself, couldn't even recoup its budget (which makes more sense considering it, you know, sucked).
Considering that Carrey, Jeff Daniels, and the Farrelly Brothers are all still onboard, and are all doing pretty well (Carrey is getting good buzz on his KICK-ASS 2 role, Daniels is headlining Aaron Sorkin's THE NEWSROOM on HBO, and the Farrelly's are coming off the surprise success of THE THREE STOOGES), I can't imagine it will be long before someone sees the long-term franchise potential of this sequel and picks it up. The original remains a hugely-quotable, mostly-undated (gotta love that '90s soundtrack) comedy that gets a lot of airplay on cable channels, and teaming up the original costars would almost certainly lock down plenty of the above-25 set. But getting a decent follow-up has proven to be a right pain in the ass. New Line rejected the proposed Matt Stone and Trey Parker script for a prequel, but the film they ended up making, DUMB & DUMBERER: WHEN HARRY MET LLOYD, is borderline-unwatchable. Matched with Jim Carrey disregarding his usual reluctance to reprise any of his roles in a sequel, one would think it would be a no-brainer to get this going as soon as possible. But alas…once more, we fans who crave the further adventures of Lloyd Christmas and Harry Dunne must continue to wait for a studio to see the kinda profits and goodwill they can muster here, and spin this thing into production.
Is it just me, or is Mike Starr's contribution to this film highly underrated?
-Vincent Zahedi
"Papa Vinyard"
vincentzahedi@gmail.com
Follow Me On Twitter