Father Geek here with our next installment of our Thursday morning Asia-AICN column put together each of the last 10 weeks by DARIUS25 and his reporters in Hong Kong and Japan. This week we finally get a little news from 2 other far east locales; North Korea and Australia. Maybe that will catch on, I'm still holding Wednesday mornings open for a regular AICN-Downunder column. Come on you guys, I know something of interest MUST be happening film wise down in New Zealand and/or Australia that you want to report on to the world at large. There's bound to be a couple of little pictures being shot in your neck-of-the-woods that has some buzz going around. Also For all you Asia-AICN fans we've set up an index/links page that has all their stories, and much more, on it. So if you missed something, or just want to trip back through AICN's Asian coverage for the last 3 years. All you have to do is Click on that "More AICN" box to the left on this page and you'll find easy access to all the Asia related news you could want to read. This is a work in progress, so check back from time to time. Father Geek is adding stuff to this file daily. WOW!!! Is there really going to be a state of the art MATRIX theme park attraction. That's way Cooool. Ol' Father Geek just might hop a slow banana boat to China to get to experience such an event, keep me informed on this guys. Hopefully it will get franchised up here closer to home too. Asia-AICN #10 Hey all. Darius25 here. Hope you've had a good week. There's lots of news for you guys this week. Before I begin, I just want to ask you all to keep sending in the information. We especially want information from Korea, Vietnam, and other countries in Asia that we do not yet cover. We want to be a "complete" Asia-AICN, not "partial" Asia-AICN. Our e-mail address is at the bottom, if you're interested in covering other countries or if you want to send any info regarding Asian cinema. Anyway, let's begin. INDIA
- Actor Nana Patekar's next film will be Tarkieb (Idea). It's a mystery movie and it costars Tabu, Shilpa Shetty, and Ashutosh Rana. The film will be directed by Esmayeel Shroff.
- Actor Amitabh Bachchan's production company, Amitabh Bachchan Corporation Limited (ABCL) is going to be revived. The company was shut down a little while ago when it ran into financial troubles. Its' comeback production will be a film which will star both Amitabh and his son Abhishek and will be directed by Rakesh Mehra. The film does not yet have a title.
- After this year's superhit Kaho Naa Pyar Hai (Do You Love Me ?), director Rakesh Roshan will again team up with his actor son, Hrithik, in an "all-out" action movie. The movie, which is untitled so far, is to begin principal photography in February and will be released sometime in 2002.
- Actor Aamir Khan will make a special appearance in his brother, Faisal's next movie. The movie is called Border Mere Desh Ka (My Country's Border).
- Actress Rekha's next film will be Mujhe Meri Biwi Se Bachao (Save Me From My Wife). The film, directed by Harry Baweja, also stars Naseeruddin Shah, Arshad Warsi and Priyanka. It is a remake of "Ruthless People."
- Anil Kapoor has landed the lead role in a remake of director Shankar's South Indian hit, Mudhalvan (I don't know what this means, I think it's a Tamil word but I'm not sure). Shankar himself will direct this film, also starring Rani Mukherjee. The film is about a reporter who gets to be Chief Minister (a political position within the government) for a day and does a very good job, which jeopardes the career of the current Chief Minister. Anil Kapoor beat out Shahrukh Khan for the role, as Shankar felt that it would be too early for Shahrukh to reprise his role as a reporter. He was a reporter in his previous movie before Josh (Adrenaline Rush), Phir Bhi Dil Hai Hindustani (Our Heart is Still Indian). The film was a pretty big flop at the box-office.
- One of actor Kamal Hassan's next movies will be the South Indian movie Thenali (Sorry, I don't know what this means), opposite actress Jyothika. Kamal will play a timid paranoid who is afraid of everything and the movie is about how he gets cured, with the help of two psychologists. Thenali will be released in the fall, sometime around November.
- South Indian actor Arjun's next release will be the South Indian movie Vaanavil (I don't know what this means), opposite actress Abhirami. Arjun has high hopes for the film as his some of his last films released recently have been duds at the box office. Vaanavil will be releasing later on in this month.
- Last Friday's (June 16) new release was Joru Ka Ghulam (Slave of My Spouse). It stars Govinda, Twinkle Khanna, Johnny Lever and Kader Khan. The film is strictly for Govinda fans only, as this is another one of his quasi-slapstick movies with no plot or character development and just filled with stupid idiotic humour. Govinda is basically in a downhill slump, in which he plays the same role over and over again. However unlike his last film Hadh Kardi Aapne (That is Enough - go to Asia-AICN #1 to see my review), this one sort of works, in that nonsense, time-pass kind of way. The plot is the same old con man theme - a con artist named Raja (Govinda) pretends to be a Non Resident Indian in order to visit a rich man's house and steal his money. He finds himself falling in love with the guy's youngest daughter but finds that he can't marry her until her other 3 sisters are married. The problem is that they are unwilling to get married. The movie then proceeds to many nonsense and idiotic events till each sister is blissfully wedded. The laughs are there, if you like this sort of thing. Atleast Govinda isn't THAT annoying, unlike his last film. None of the songs are something to talk about, other than the title song. Twinkle Khanna has no role, she is just there to look beautiful and mostly succeeds. Of the supporting actors, Johnny Lever provides the most laughs and is definitely the best thing about the movie. Overall, if you're bored then go see this movie, but if you don't like Govinda, then stay away from this movie at all cost!!
- The recommendation of this week is a pretty big hit of 1998, Ghulam (Slave). It was directed by Vikram Bhatt and stars Aamir Khan, Rani Mukherjee, Akshay Anand, Sharat Saxena and Deepak Tijori. This is loosely based on Marlon Brando's On the Waterfront. It is about a street-wise punk (Aamir Khan) who develops a conscious when he meets a young teacher (Akshay Anand). He tries to get out of the life of petty crime, but finds it impossible to turn his back on his so-called friends. The story is something we usually see in Indian and English movies, but this time it's not a gangster or an action film, but a full-blown drama. The main reason to see this film would be for the powerful performance by Aamir Khan. He drives this film with every single of his antics. Whether he's robbing somebody or crying over someone's death, he succeeds in creating sympathy for his loser-like character. The ending of this film is not a gunfight like you would normally expect, but a Rocky-like fistfight in the streets. Even when fighting against a really-HUGE man, you want this tiny weasel-like character to win. Ok, I am sounding too much like a marketing person, but the movie is very good. The other actors in the movie give pretty good performances as well, the songs are upbeat and energetic, the choreography is excellent and the pacing of the film is again very good. A drama with a running time of nearly 3 hours better be evenly paced, and this movie succeeds with practically no dragging scenes at all. Overall, if some of you (even the international audience) want to see a commercial Indian film, with a plot, good acting and none of the usual action, see Ghulam. The movie is available on DVD or video. If you're interested here's the link to CLICK on right here.
CHINA / HK The following was reported by "The Accidental Spy":
- The plot of "The Zu Warriors 2" is finally revealed!! From what I understand, the story is DEFINITELY way more complicated than the original, and more difficult to follow than recent HK fantasy epics like The Stormriders and A Man called Hero. We all know that ZW2 is actually a prequel to the original, and Ekin Cheng and Cecilia Cheung are supposed to play Adam Cheng and Brigitte Lin's roles from the original, respectively; but it seems that they both would play one more before-life character to reveal their present-life's relationship (remember in Stephen Chow's A Chinese Odyssey 1 & 2, before Chow turns Monkey King, he has a major role 500 years before for explaining why, when and how; yep, it's similar to this). There is also a character (Patrick Tam) who is a human being-turned-saint and falls in love with a human (Kelly Lin). There is another character (Louis Koo) who is a good guy-turned-evil, a major villain who won't be destroyed in this movie. Why? Because director Tsui Hark is already planning to shoot The Zu Warriors 3 in 2001! The movie is scheduled to release this Christmas in HK. However, there are some problems because the Chinese government now prevents any film footage shot inside mainland China to be developed outside China (due to Cannes' Grand Jury Prize winner GUIZI LAI LE, directed by Jiang Wen, which irritated the Chinese government). Tsui is worrying that the print may be ruined because of the film developing technique in China is not good enough, especially for a big-budget movie full of CGI.
- Last week, Stephen Chow has sent a warning letter to Cecilia Cheung (King of Comedy, The Zu Warriors 2) due to his long wait for her audition and therefore delaying the start of "The Soccer Hero from Shaolin Temple". Cheung debuted in Stephen Chow's "King of Comedy", and signed up three more movies with Stephen Chow and none of them have been made yet. Cecilia Cheung is recently filing a lawsuit to sue her ex-manager and enjoying a big jump in her salary; but certainly, the contract signed with Stephen Chow is still the old price.
- Can't wait to see Maggie Cheung in "In the Mood of Love" ? Then check out "Sausalito" with Leon Lai (they once teamed up in 1996's romantic classic "Comrades, Almost a Love Story"). Sausalito is Cheung's latest HK movie for almost three years (since 1997's "The Soong Sisters") and is now available on VCD and will soon be on DVD. Directed by Andrew Lau (The Stormriders, Young & Dangerous series), the movie is beautifully shot in San Francisco, with a plot focus on a one-night-stand between a cab driver/single mother (Maggie Cheung) and a search engine programmer (Leon Lai). The movie is OK and is no way comparable to "Comrades, Almost a Love Story" but definitely worth watching for Maggie Cheung's sake. Here is a link for buying the VCD, along with a 48-page photo album: Just CLICK RIGHT HERE to see it all.
JAPAN... With a KOREAN bit and an interesting one from AUSTRALIA too... The following was reported by "Pigmon":
- In Godzilla vs. Megagilas, Godzilla was supposed to destroy the Fuji-Television buildings in Tokyo, but Fuji-TV denied the permission for Toho to do this. Here's a couple of pictures from behind the scenes. The first one is of a model (or a guy in a suit) of what I think is Megagilas, and the second one is a concept art of the creature in the first picture.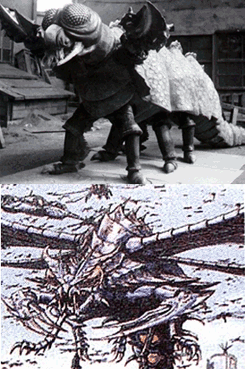 - The very first film office will be opening soon in Osaka . The city of Osaka welcomes any foreign production to assist them in this venture. Remember Ridley Scott selected Osaka, not Tokyo for Black Rain, because of the big assistance they got from the Osaka city government.
- Toho will release Godzilla 2000 on DVD later on in the year. It will come with all trading cards so people can stop paying for the expensive cards and just wait for the DVD.
- News from the land down under - The Warner Movie World amusement park in Gold Coast, Australia, will soon have The Matrix attraction based on the movie. A local visual effects company, Photon VFX (TV's Moby Dick and Journey To The Center of the Earth), will supervise the attraction. Construction will start in September. Warner Movie World will also have a Pokemon attraction.
- Later this year, the North Korean made monster movie, "Bulsagari", will be released in South Korea. This movie will be the first commercial film made by North Korean to open throughout South Korean movie theaters. This movie's VFX will be supervised by Toho's Godzilla's staff.
- Yujo Oda's new film,"White Out (Toho)" is finally complete and will hit theaters on August 19th.Toho is really having a strong summer this year. I will see it within 2 weeks and will report on it. The film is about a young police agent against terrorists who have occupied a big dam with hostages. It's Die Hard in a Japanese way!
- I went to see an advance screening of "Blister", which is directed by Taikan Suga, who is what I call, a Japanese Spike Jonze. This movie was shown at the Yubari International Fantastic Festival 2000 early this year and received the Fantaland award (the audience's favourite film). The film is a about a man who is obsessed with a figure with a blister. He does not want to open the figure. He is looking for one figure, Hellbanker, of which there is only one in the world. I will not tell you many things about this film but this figure will save the future of Earth. (How suitable ? - D25) One of the co-financiers of this film is Buena Vista Home Entertainment, so hopefully this movie will be shown in the US soon. Definitely "Blister" is the one of best Japanese films of this year so far.
Now the column has come to its end for the week. Be sure to send us any info regarding Asian cinema at our Asia-AICN offices . See you all next week. - Darius25