Howdy do, everyone, Papa Vinyard here.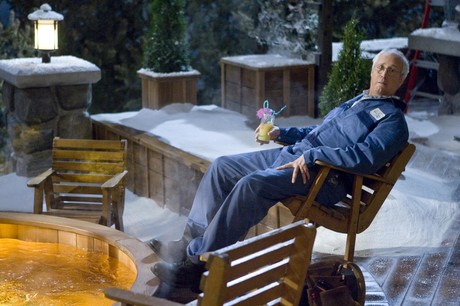 Get that Chernobly ready! Today, we get news via The Wrap that Chevy Chase is set to reprise his role as The Repairman in the upcoming sequel, HOT TUB TIME MACHINE 2. He's joining Rob Corddry, Craig Robinson, and Clark Duke from the first one, presumably to continue giving them grief as they Tub themselves into some point in their future, where they will encounter the son of John Cusack's character.
This is good news, as Chase fit in perfectly with both the tone and the '80s reference-heavy humor of the first movie. His recent image of being a daffy, annoying old pain-in-the-ass adds a great spin to his role as the mystical maintanance man who cannot (or, more likely, simply refuses to) give our heroes a straight answer. But my question is, if they could wrangle the difficult and demanding Chase back into the fray, just what is the real reason that Cusack opted out of this follow up? Even the writer, Josh Heald, and director Steve Pink (who co-wrote HIGH FIDELITY and GROSSE POINTE BLANK alongside Cusack) came back. Adam Scott is a hilarious guy, but his casting as Cusack's son just seems like a lazy way to keep a Cusack-esque character around to smooth over the fact that, for some reason or another (really hoping it wasn't about money), the former Lloyd Dobler didn't feel like joining up with the original cast. Is Cusack, who has popped up in two DTV films in the past year, really harder to get ahold of than the notoriously-troublesome Chase at this point?
HOT TUB TIME MACHINE 2 should be filming as we speak for a release date next year.
-Vincent Zahedi
"Papa Vinyard"
vincentzahedi@gmail.com
Follow Me On Twitter