Howdy do, everyone, Papa Vinyard here.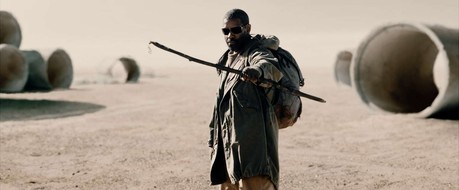 According to The Wrap, Oscar-winner Denzel Washington is in discussions to take the lead role in SHOVEL READY, an upcoming sci-fi flick coming out of Warner Bros. The film's intriguing premise has Denzel playing a hitman in a post-apocalyptic New York City who, as many cinematic hitmen have done before him, gets a soft spot for his most recent mark and, rather than killing her, ends up trying to save her. The twist? Everyone in this society is plugging into Neuromancer-style virtual realities, muddling the line between what's real and what's imagined.
They don't have a director signed on yet, but the current producer is Erwin Stoff. Stoff is credited on a whole bunch of Keanu Reeves flicks, which does include THE MATRIX and A SCANNER DARKLY, as well as I AM LEGEND, so he has his technobabble, psychodrama, and post-apocalyptic bases covered. As for Denzel, this sounds like a cross between his zealous, over-protective Creasy in MAN ON FIRE meets his cynical SAFE HOUSE criminal amidst a BOOK OF ELI background. Nothing radically original on either of their parts, but at least we can figure they know what they're doing!
-Vincent Zahedi
"Papa Vinyard"
vincentzahedi@gmail.com
Follow Me On Twitter