Howdy do, everyone, Papa Vinyard here.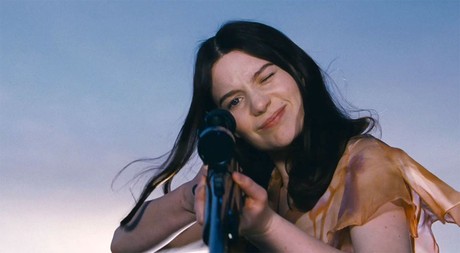 According to The Wrap, Emma Stone was forced to drop out of Guillermo del Toro's upcoming haunted house flick, CRIMSON PEAK, due to scheduling issues. Set to replace her? ALICE IN WONDERLAND and STOKER star Mia Wasikowska. Her and Charlie Hunnam (also in del Toro's PACIFIC RIM) will play a young couple that meets and falls in love at the turn of the 20th century. They marry, and end up in a mansion that may, or may not, be haunted. Soon Hunnam's character starts exhibiting behavior that puts poor Wasikowska in fear for her life. Benedict Cumberbatch and Jessica Chastain have supporting roles as members of a high-class family that gets involved with the newlyweds.
I was cold on Wasikowska after her turns in ALICE and LAWLESS, but STOKER made me appreciate what she is capable of when given some meat to chew on in her performance. It is not hard to imagine that del Toro will put her through an emotional wringer, given his penchant for powerful, heartfelt horror, and I have faith that this casting is a great complement to his baroque sensibilities.
CRIMSON PEAK shoots in early 2014.
-Vincent Zahedi
"Papa Vinyard"
vincentzahedi@gmail.com
Follow Me On Twitter