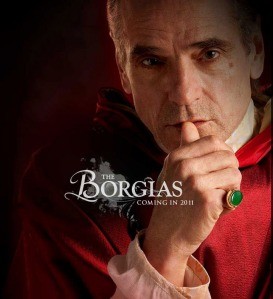 Showtime confirmed Wednesday that the June 16 "Borgias" season finale will also be the period drama's series finale as well.
Creator/showrunner Jordan said he wrote a two-hour "Borgias" TV-movie that he'd hoped would follow the third season's conclusion, but Showtime deemed it too expensive to produce.
The pricey Jeremy Irons vehicle was never one of Showtime's more popular series. While HBO's "Game of Thrones" scored a 2.8 in the adults 18-49 demo on Sunday, a new episodes of "The Borgias" failed to make cable's top 100 that day, pushed out by TNT's 8 a.m. repeat of "Law & Order" and a handful of HGTV's "House Hunters International" repeats, all scoring a mere 0.4 in the demo.
Find all of Deadline's exclusive on the matter here: