Howdy do, everyone, Papa Vinyard here.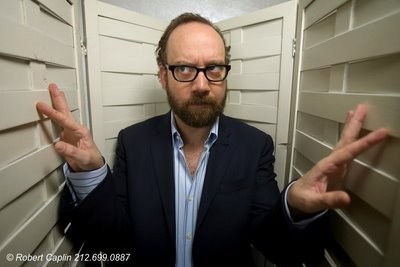 Today we get word, via The Wrap, that Paul Giamatti has joined Bill Pohlad's biopic, LOVE & MERCY. The movie will focus on Beach Boys frontman, Brian Wilson, as he struggles with, and, eventually, overcomes, mental illness. Paul Dano and John Cusack will be playing Wilson at various points in his life, and Giamatti will play Wilson's long-term therapist, Eugene Landy. It looks like a plumb role for Giamatti, whose been known to make some dull parts more interesting, and to knock juicier characters out of the park.
The real Landy was an interesting figure who played an integral part in Wilson's life. After being hired by Wilson's wife, Marilyn, he was able to ween Wilson off of his LSD intake and other drug use that had make him a disaster to work with (the trampoline-jumping, didgeridoo-obsessed era in WALK HARD: THE DEWEY COX STORY was inspired by this) using a highly unorthodox, 24-hour therapy regiment. However, his symbiotic relationship with Wilson, including business deals that extended into Landy allegedly co-writing and producing one of his solo albums, not to mention his methods of therapy that included isolation and heavy medication, cost him his license and, eventually, his business relationship with the musician. Can't wait to see Giamatti tackle this morally iffy individual opposite Dano and Cusack.
LOVE & MERCY begins production this summer.
-Vincent Zahedi
"Papa Vinyard"
vincentzahedi@gmail.com
Follow Me On Twitter