Howdy do, everyone, Papa Vinyard here.
Today, via his Twitter, Bryan Singer posted another pic from the set of X-MEN: DAYS OF FUTURE PAST, this time of the Nixon-era oval office where, it would seem, the government has to deal with another unignorable incursion of mutants into mainstream society. I was a fan of that history-bending aspect of the last installment, and am excited to see Singer & Co. take that a step further without the whole "new jack mutants" angle eating up screentime. While I know people had a problem with the Nixon stuff in Zack Snyder's WATCHMEN, the ex-pres remains such a powerful icon of that period in American history (and such an interesting character, in and of himself; see SECRET HONOR or FROST/NIXON) that it should be fun to see him and his advisors deal with the impending "mutant threat".
And I'm pretty freaking sure that's Ray Wise, reprising his role as the Secretary of State from X-MEN: FIRST CLASS. This is the first I've heard anywhere of his appearing in this film, and as many TWIN PEAKS/ROBOCOP/TIM & ERIC fans can attest to, his participation is ostensibly a very good thing. The dude pours gravitas into every role I've seen him in, no matter how throwaway or small; see JEEPERS CREEPERS 2 if you don't believe me.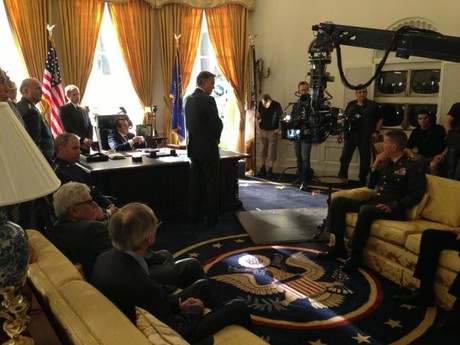 20th Century Fox drops X-MEN: DAYS OF FUTURE PAST July 18th, 2014. Very cool that we're getting X-Men flicks two summers in a row.
-Vincent Zahedi
"Papa Vinyard"
vincentzahedi@gmail.com
Follow Me On Twitter