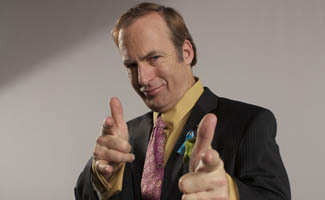 "Breaking Bad" mastermind Vince Gilligan discusses his potential "Better Call" Saul Goodman spin-off with Yahooo TV:
"It's still in its very early days. [We're] trying to figure out, for instance, whether it's a prequel or a sequel. We're trying to figure out what kind of story we want to tell as it relates to Saul. But any story that at some point or another showed Saul at his peak, his abilities and his networking skills, would, I think, show the criminal underbelly of a fictional Albuquerque that really had Saul Goodman wired into pretty much the heart of it," continues Gilligan, who's currently editing the last four episodes of "Breaking Bad." "This is a guy who kind of knows everybody … everybody in town, all the major players. And he has a hand in the business every which way he can. So we just have to figure out exactly what kind of story we're telling. Is it a story about his creation of his own character? Because Saul Goodman, as he explains in his first episode [of "BB"], is not his real name. He is a self-created character, much like Heisenberg. Do we tell the story of his origins? We're still trying to hash that out. But there are a lot of fun possibilities."
Whether it was a sitcom or an hourlong, I always assumed the Goodman project would be a sequel to "Breaking Bad," not a prequel.
The potential bad news: "The Godfather Part II" notwithstanding, prequels are rarely satisfying endeavors.
The potential good news: A prequel could bring back a bunch of great dead characters, either as regulars or recurrings: Jonathan Banks' Mike Ehrmantraut, Giancarlo Esposito's Gus Fring, Mark Margolis' Tio Salamanca, Danny Trejo's Tortuga, Steven Bauer's Don Eladio, and more. Maybe even Aaron Paul's Jesse Pinkman or Krysten Ritter's Jane Margolis could turn up every once in a while.
AMC launches the first of "Breaking Bad's" final eight episodes Aug. 11.
Find all of Yahoo TV's story on the matter here.