Howdy do, everyone, it's Papa Vinyard here.
Today, we get a another in the ongoing series of MACHETE KILLS character posters, via AMC Theaters' Facebook page, following up on the teaser trailer we got yesterday.
This one focuses on Michelle Rodriguez's She character, who, as you remember, was a taco vixen-turned-revolutionary who survived getting shot in the eye by Don Johnson's racist asshole in the original. With her eyepatch, leather getup, shoulder-blade armor, and those two improbably badass-looking revolvers, it's looking like our buddy Robert Rodriguez made the right call in keeping her around instead of Alba's softy, virginal federale. Ms. Rodriguez certainly has the market cornered on tough, take-no-shit Latina characters, yet somehow, this poster has enough force to keep her presence here from edging her into "annoyingly typecast" territory.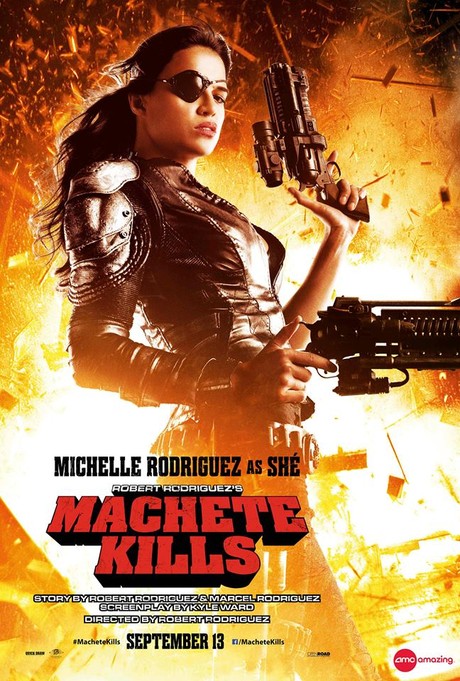 Can't wait for Mel's!
MACHETE KILLS on September 13th. Gimme.
-Vincent Zahedi
"Papa Vinyard"
vincentzahedi@gmail.com
Follow Me On Twitter