Coaxial
Showtime's RICHARD PRYOR: OMIT THE LOGIC!! Brit Marling On MAHER!! Kathy Griffin On CRAIG!! MERLIN Finale!! CHILLING VISIONS!! SPACE WARRIORS!! SMACKDOWN!!
Herc's Friday TV Talkback!!
Actress-screenwriter Brit Marling is the mid-show interview guest on tonight's "Real Time With Bill Maher." Journalist Michael Isikoff is the top-of-show interview guest. The roundtable guests are health-care expert Neera Tanden, writer James Poulos and humorist Paul Rudnick.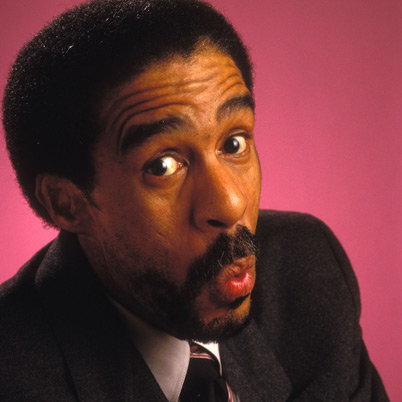 I don't have a clip to share, but want to recommend anyway "Richard Pryor: Omit The Logic," a fascinating documentary that fills in what happened between and around Pryor's acclaimed autobiographical concert movies. It depicts, among many other things, Pryor taking the loss of the "Blazing Saddles" lead a lot harder than the Mel Brooks documentary from earlier this month suggested. "Omit" launches 9 p.m. Friday on Showtime.
Premiering tonight:

ANT Farm (8pm Disney)

Bridezillas (8pm WE)

Marriage Boot Camp (9pm WE)

Primetime: What Would You Do? (9pm ABC)

Randy To The Rescue (9pm TLC)

Stevie TV (10pm VH1)
Fridays, April 19-May 24, 2013
(Adults 18-49; repeats in gray; earlier weeks in parentheses)
3.0 (---) (2.8) (1.8) (1.3) (---) NBA Basketball
1.5 (1.9) (1.8) (1.7) (2.0) (---) Shark Tank
1.1 (1.5) (1.7) (1.6) (1.2) (1.7) 20/20
1.0 (---) (---) (---) (---) (---) Brain Games
1.0 (1.2) (1.1) (1.2) (---) (---) Dateline
0.9 (1.3) (1.2) (1.1) (0.9) (1.9) Rock Center
0.8 (0.6) (---) (---) (---) (---) Bones
0.8 (0.6) (0.6) (0.7) (0.8) (---) Sons of Guns
0.8 (1.0) (1.6) (1.2) (1.7) (---) Undercover Boss
0.7 (---) (1.1) (1.3) (1.3) (---) Blue Bloods
0.6 (0.6) (0.7) (0.6) (0.8) (0.7) WWE Smackdown
0.5 (---) (---) (---) (---) (---) NHL Semi-Finals
0.4 (0.3) (0.3) (0.3) (---) (0.4) House Hunters Intl
0.4 (0.4) (0.5) (0.3) (0.4) (0.4) Mystery Diners
0.3 (0.3) (0.2) (0.3) (---) (---) Flea Market Flip
0.3 (0.3) (0.3) (0.3) (0.3) (0.3) House Hunters
0.3 (0.3) (0.4) (0.3) (---) (---) Merlin
0.3 (0.3) (0.1) (0.2) (---) (---) Supernatural
0.3 (0.3) (0.3) (---) (---) (---) Wild West Alaska
0.2 (0.4) (0.2) (0.2) (0.3) (0.3) Nikita