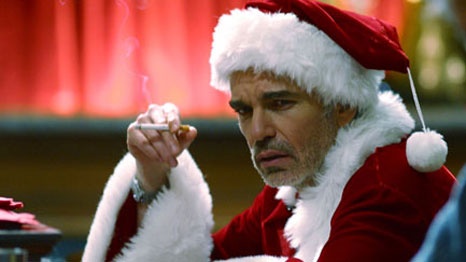 Beaks here...
I have been obsessively in love with Terry Zwigoff's BAD SANTA since I saw an early test screening cut in January of 2003. It's a savage takedown of a holiday that brings out the absolute consumerist worst in people. Every time I watch cell phone videos of mayhem at Black Friday midnight sales, I think of Billy Bob Thornton confronting Tony Cox and Lauren Tom with their illicit department store haul. Do you people really need all of this shit?
They don't. And you know what else we don't need? BAD SANTA 2, especially if it's going to be written and directed by ENTOURAGE creator Doug Ellin. Before hitting it big with the HBO series, Ellin wrote two awful screenplays: KISSING A FOOL and PHAT BEACH. He recently wrote GRUDGE MATCH for Sylvester Stallone and Robert DeNiro, which sounded promising until Warner Bros moved it from the fall of 2013 to early January 2014. Rarely a sign of confidence. Maybe GRUDGE MATCH will turn out great. Even then, I don't see how the mind behind ENTOURAGE matches up with the brutally dark comedy of BAD SANTA. Ellin's at his "best" when writing obscene frat boy comedy. BAD SANTA is so much more than a parade of insanely profane gags.
Filming is expected to start in the fall. Vaya con dios. We'll always have the original, or a version of it anway.