Ahoy, squirts! Quint here with today's Behind the Scenes Picture.
I have very vivid memories of going with my kindergarten class to see Harry and the Hendersons at the theater. The moment that sticks out to me the most is minor as an adult, but scared the shit out of me as a kid. It's a fun moment whenever the Bigfoot is revealed to be alive after the Hendersons hit him and strap him to the roof… you know the scene, his face and hands suddently appear on the windshield, everybody screams, the brakes are hit and poor ol' Harry goes flying into the road.
My 6 year old guard was so down at that moment that I jumped a mile when Harry popped up and roared… and I probably have never trusted movies since, but it's still a good memory.
The great Rick Baker designed and executed the Harry outfit and was again successful at giving real character and life to a hunk of rubber and fur. Today's picture shows the man and his creation during the making of the movie.
Thanks to Michael Heintzelman and the Practical Effects Group for this shot.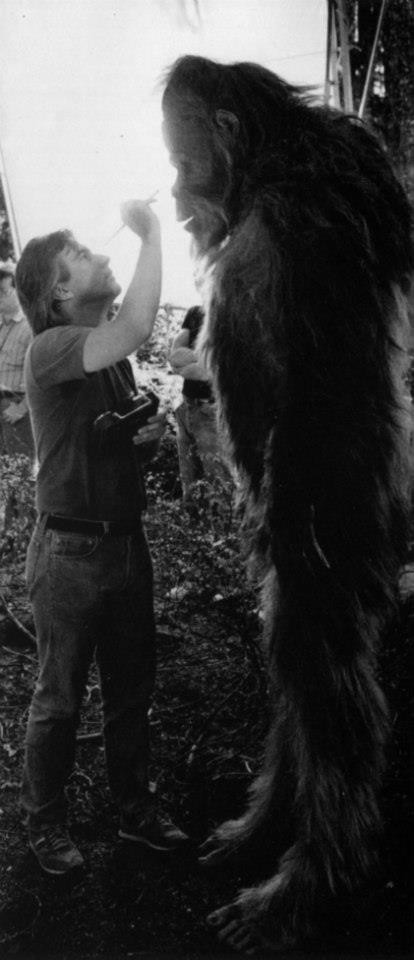 If you have a behind the scenes shot you'd like to submit to this column, you can email me at quint@aintitcool.com.
Tomorrow's BTS pic will swallow you whole, by God.
-Eric Vespe
"Quint"
quint@aintitcool.com
Follow Me On Twitter
I've got a lot of maintenance work to do on the previous BTS articles, but you can visit two pages worth of images (beware of some broken links thanks to the last server shift): Click here to visit Page One and Click here to visit Page Two