Ahoy, squirts! Quint here with today's Behind the Scenes Picture.
Yay! The BTS column has returned! Sorry to let it fall by the wayside again. Tech troubles, new laptop not getting here in time for a trip, holiday weekends and a weeklong excursion to Orlando for a full on vacation of my own all collided together and put this column out of commission for a bit.
Now all that should be cleared up. I'm happy with a new, functioning laptop and no trips to Disneyworld to distract me (that I'm aware of), so let's get this column back up on its feet, shall we?
I left off with some Kubrick, but let's switch gears and show off some Hitchcock. Today I have two images for you, obviously taken nearly simultaneously on the set of The Birds. One of them is flipped around, but both show Hitch in fully mugging-for-the-camera mode. The color photo is serious face and the black and white photo is laughing Hitch.
So, apologies for the disruption of the column. Hope you dig these two pics as we get the BTS train a'rollin' once more!
Thanks again to Decaying Hollywood Mansions for sharing these great shots.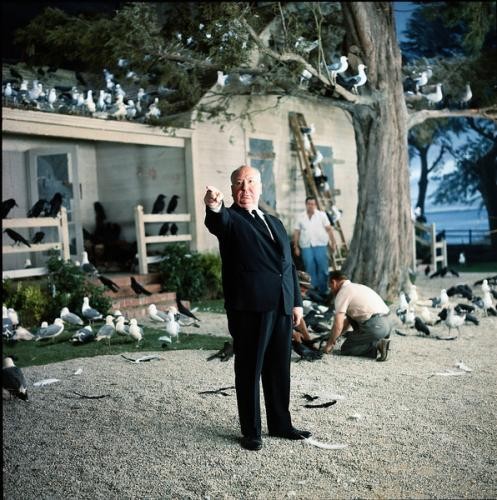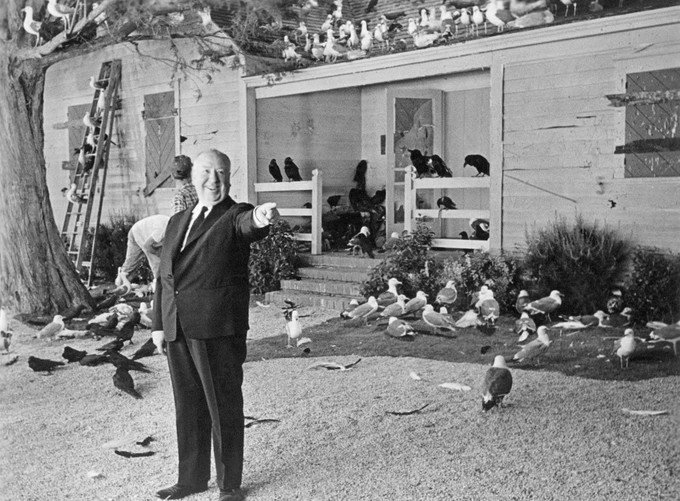 If you have a behind the scenes shot you'd like to submit to this column, you can email me at quint@aintitcool.com.
Tomorrow's BTS pic is quite Harry.
-Eric Vespe
"Quint"
quint@aintitcool.com
Follow Me On Twitter
I've got a lot of maintenance work to do on the previous BTS articles, but you can visit two pages worth of images (beware of some broken links thanks to the last server shift): Click here to visit Page One and Click here to visit Page Two