Howdy do, everyone, it's Papa Vinyard here.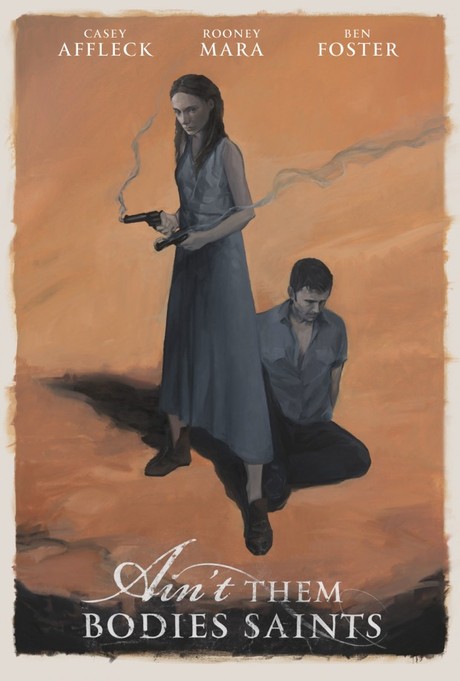 Today, we get the trailer for the upcoming violent love story AIN'T THEM BODIES SAINTS. It's written and directed by a guy named David Lowery, who has directed a few smaller indie pieces, but is probably best known right now as the editor of Shane Carruth's UPSTREAM COLOR. The film is about a married couple in the '70s that gets in hot water with the law, and is separated when the woman shoots a cop and lets her husband take the rap. Apparently, the wife and the cop she shot make some sort of connection at some point down the line, which is threatened, or at least perturbed, by the return of the deeply passionate and in-love husband.
The word "Malick-y" gets thrown around often these days, especially when it comes to these sort of old-school, southern flavored period dramas, but I'd say the term applies here. There is some gorgeous cinematography, sudden and deeply resonant bursts of violence, and, of course, the presence of a madly-in-love young couple. I like that the wife finds solace with the cop she shoots, while he has no idea that it was her, and not her husband, who put a cap in his shoulder.
The film stars Casey Affleck, Rooney Mara, Ben Foster, Keith Carradine (whose role seems fairly sizable), and Nate Parker. It got great reviews out of Sundance, and with that cast and this trailer, it seems like a great arthouse flick to close out the summer with. If Affleck's work is anything close to his efforts in THE ASSASSINATION OF JESSE JAMES BY THE COWARD ROBERT FORD or THE KILLER INSIDE ME, I couldn't be an easier sell.
AIN'T THEM BODIES SAINTS comes out in limited release on August 16th.
-Vincent Zahedi
"Papa Vinyard"
vincentzahedi@gmail.com
Follow Me On Twitter