Howdy do, everyone, it's Papa Vinyard here.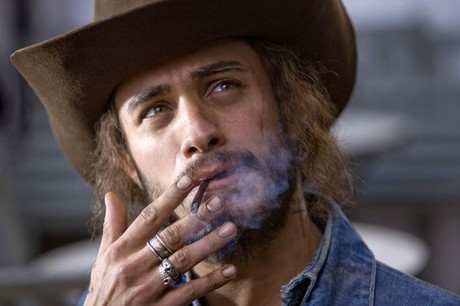 Jon Stewart has recently made it plainly clear that he's taking a four-month hiatus this summer from his main gig as the host of "The Daily Show" to write and direct his first movie, entitled ROSEWATER, and it looks like he's found his lead in Mexican-born actor, Gael Garcia Bernal (Y TU MAMA TAMBIEN, THE MOTORCYCLE DIARIES, BABEL). He will be playing Iranian journalist Maziar Bahari, who spent 118 days in a Tehran prison on dubious counts of espionage.
While I find it pretty cool that Stewart, who is Jewish, is doing a film with a Persian protagonist while tensions between Israel and Iran seem to be steadily increasing, it's a little distressing that the only suitable actor he could find was Hispanic. Plus, while it's based on a true story, I can't imagine a film with this premise doing any favors for Iran's PR, which was definitely winged last year with the release of ARGO, where Affleck pretty much depicted Iran citizens as furiously aggressive nationalists.
So yeah, I don't think this'll be MUNICH or anything, but I am excited to see the consistently funny and intelligent Stewart behind the camera. It's certainly an interesting and provocative story, and Stewart doesn't seem like the kinda guy to sensationalize things too much, so I'm definitely curious to see how this comes together.
-Vincent Zahedi
"Papa Vinyard"
vincentzahedi@gmail.com
Follow Me On Twitter