Howdy do, everyone, it's Papa Vinyard here.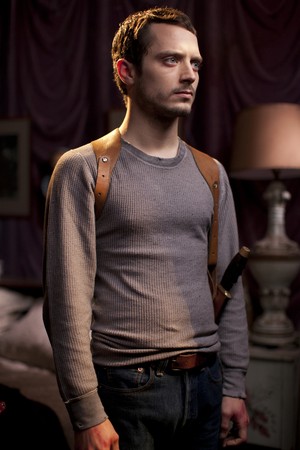 An official trailer for the remake of William Lustig's MANIAC has dropped on Youtube, and its surprisingly old-school. The soundtrack alone evokes both Pino Donaggio and John Carpenter in equal measures. The trailer makes it seem like a sort-of redemption story for this deranged predator of women, played by Elijah Wood. He falls for this photographer that, for some reason, considers him a "true romantic". His admission of "I don't know about all that" implies a sort of hesitance and self-loathing that I definitely find intriguing.
Aside from a couple of shots, the trailer doesn't shy away from the fact that this is pretty much all shot from the POV of Wood's character, and his physical presence is mostly in reflections. Ballsy choice that, I hope, appeals to the typical horror junkie as well as fans of more challenging, avant-garde cinema, like, say, the original Last House on the Left or some of Abel Ferrara's early stuff.
I can't believe all serial killers don't have leather holsters for their knives. Seems so obvious when you think about it. I mean, the validation from just wearing it maybe did the trick for a night or two and saved a couple of girls' lives. Maybe.
MANIAC comes out in limited release and VOD on June 21st.
-Vincent Zahedi
"Papa Vinyard"
vincentzahedi@gmail.com
Follow Me On Twitter