Nordling here.
First, I really like Spidey's suit now, in comparison to the last movie. This one feels straight out of the comics pages - it's bold, it's brash, it's something a teenager with limited sewing skills but a lot of heart would design.
So filming proceeded Thursday in Rochester, New York, with Spider-Man doing some of his Spidey poses on top of a police car (pictures care of University of Rochester). I really like the Spidey-In-The-Hood shot. Just taking it easy on the police car...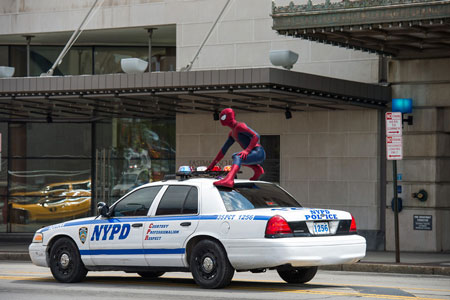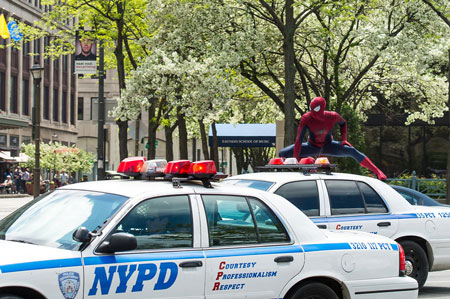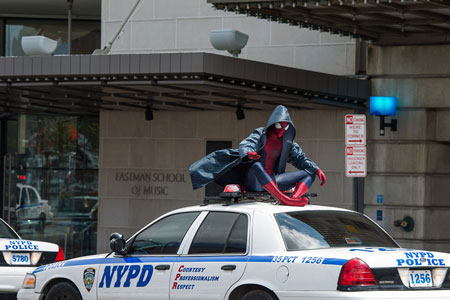 Next we have Spidey surfing on top of an NYPD police car in pursuit of a giant truck, presumably driven by the Rhino (Paul Giamatti) during some kind of possible heist. The scene looks fairly large in scale, care of the Rochester Democrat and Chronicle:
This next video contains massive spoilers - a multi-police car pile-up as the Rhino attempts his escape, with New York's finest in pursuit. It looks like he's hauling an Oscorp truck, so I'm wondering if this will have something to do with the Rhino's possible transformation later. Or perhaps the Rhino in this iteration just drives big fucking trucks!
I wasn't the biggest fan of THE AMAZING SPIDER-MAN. I thought it played a bit stiff, although Andrew Garfield was perfect as Peter Parker. This time, Marc Webb doesn't seem to be holding anything back, making a real comic book movie and not some watered-down teen angst romance movie. I'm really interested in seeing how all this comes together.
Nordling, out.